Theresa Villiers says Parades Commission breaches are PSNI matter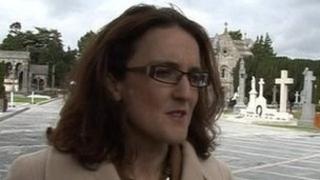 Any breaches of a ruling by the Parades Commission are a matter for the PSNI to investigate, Secretary of State Theresa Villiers has said.
Some bands played tunes other than hymns while passing St Matthew's Church in east Belfast on Saturday.
Ms Villiers made her remarks during a visit to Glasnevin Cemetery in Dublin.
"Of course it's vitally important that the Parade Commission's decisions are abided by," she said.
"There was obviously anxiety and concern before the events of Saturday, and I think overall we can be really pleased that, in the main, the event went off in a respectful way."
History
Ms Villiers' visit to Glasnevin Cemetery on Monday was the first ever by a Northern Ireland secretary.
She was accompanied by the Republic's Minister for Arts, Jimmy Deenihan, on a tour of some of the cemetery's famous graves, including Daniel O'Connell, Michael Collins and Eamon de Valera.
Speaking afterwards Ms Villiers described her visit as another opportunity to learn more about the history of the island of Ireland.
"I'm fully aware that history is a key issue in terms of the politics in Northern Ireland and the Republic," she said.
"I think the approach to having a non-denominational cemetery where people with diametrically opposed views on politics and religion can lie side-by-side is one that's very positive."
Glasnevin Cemetery is the largest non-denominational cemetery in Ireland and first opened in 1832.