Michaela McAreavey's widower says foundation helps him cope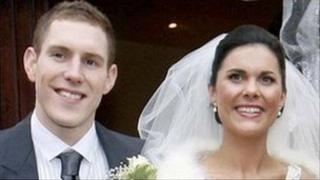 Michaela McAreavey's widower has said the charitable foundation he set up in her memory "really helps" him in his efforts to cope with her tragic death.
The 27-year-old from County Tyrone was killed during the couple's honeymoon in Mauritius in January 2011. Two hotel staff were acquitted of her murder.
John McAreavey helped to set up the Michaela Foundation to promote the values his wife lived her life by.
He also said he was still hopeful her killers would be brought to justice.
Mr McAreavey was speaking to Radio Ulster's Talkback programme ahead of a festival he has organised to raise funds for the foundation.
'Positive distraction'
"From last year, because of all the support and the kind things that people had said about Michaela - and I think the way she lived her life kind of resonated with people - we thought we would set up a foundation so those values that Michaela held dear would live on," he said.
The foundation funds a bursary scheme for university students and a summer camp for girls aged 11 to 13.
It focuses on five core principles that the McAreavey and Harte families say were "pivotal" in Michaela's life; faith, fashion, fun, well-being and the Irish language.
Mr McAreavey said that since last year he had become "heavily involved" with the organisation and he agreed that working with the foundation had helped him to deal with losing his wife.
"It's a positive distraction, and personally it has been good for me, but I think it's worthwhile knowing that other people can see these good values, so why not espouse them? Why not talk about them and why not try to encourage other people to take them on board?" he said.
Tragic
Speaking about the police investigation into his wife's murder, Mr McAreavey said it "continues to be difficult" but he added her family was "keen to dwell on Michaela in the right manner and put everything else aside".
"Anybody in any situation - if you're faced with something as tragic as we have - I think you have to react in the right way, and that's about being positive in your life.
"I mean, there's certainly a lot of things out there in life that are still worth pursuing and I think the Michaela Foundation is an embodiment of that," he told the programme.
The widower was a prosecution witness at the murder trial which ended in July, and gave an emotional testimony about his treatment at the hands of the Mauritian police in the aftermath of the killing.
'Happy place'
Asked if he now believed he would get justice, Mr McAreavey said: "I hope so. We have to try, but at the same time we just have to leave the relevant parties, you know, they are doing all they can.
"Only time will tell what will happen but you can be sure Michaela is far removed from everything that's happening there," Mr McAreavey added.
"Where she is now is in a very good and happy place, so that's all that matters to me."
The Match for Michaela event will take place on 3 November and will feature a Gaelic Athletic Association (GAA) game between the 2012 All Ireland senior football champions, Donegal, and the inter provincial Ulster champions.
There will also be music from X Factor star Janet Devlin, as well as dancing and entertainment.