McCallister sacked as UUP deputy leader over unionist unity speech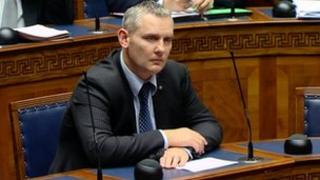 The South Down MLA, John McCallister, has lost his position as Ulster Unionist deputy leader after making a speech criticising unionist unity.
UUP leader, Mike Nesbitt, is understood to have viewed sections of the speech as an attack on his leadership.
In his speech, Mr McCallister expressed the fear that the Ulster Unionists were "sleepwalking into unionist unity".
He said such a move would deprive voters of choice and entrench tribal politics.
In the address that he made on Saturday - to mark the centenary of the signing of the Ulster Covenant - Mr McCallister said recent shared commemorations, shared events and shared statements gave the impression that the unity train had left the station.
Replacement
In a BBC interview, the South Down MLA denied this was an attack on Mike Nesbitt's leadership, insisting he was focussing on the perception of a shift towards unity.
However Mr Nesbitt has responded swiftly - by stripping Mr McCallister of his deputy leader's job and reviewing whether the party needs to appoint a replacement.
When the pair contested the UUP leadership in March, Mr Nesbitt beat Mr McCallister by a heavy majority, winning by 536 votes to 129.
Three days later, he reappointed the South Down assembly member as UUP deputy leader - a role Mr McCallister had held under the previous UUP leader, Tom Elliot.
Mr Nesbitt is former UTV news television presenter who joined the UUP in 2010.
Before his move into party politics, he also served for two years as one of four Victims Commissioners.
Discipline
His first six months as leader of the UUP have seen two high-profile and long standing UUP politicians leave the party.
In May, Strangford assembly member David McNarry was expelled by a UUP disciplinary committee.
Mr McNarry had been involved in a five-month long dispute with the previous leader, Tom Elliot, over a newspaper interview he had given, detailing discussions between the UUP and DUP about unionist unity.
In August, the former Fermanagh South Tyrone MP, Ken Maginnis, quit the party after a row over controversial comments he made about homosexuality.
Mr Maginnis had been stripped of the party whip at Westminster two months earlier, after describing homosexuality as "unnatural and deviant" on the BBC's Nolan Show.
Resigning, the UUP peer said he had no regrets about making the remarks and claimed Mr Nesbitt's election of as leader had been a "mistake".