999 number hit by technical fault in Fermanagh and south Tyrone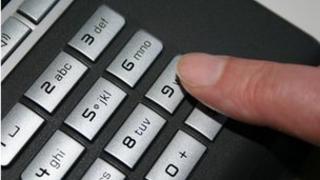 A fault that disrupted BT landline telephone services in Fermanagh and south Tyrone - including access to the 999 number - has been fixed.
The disruption began on Monday morning and lasted for at least four hours.
BT apologised to customers for the "significant fault" at an exchange in the Omagh area but said all services were restored by about 13:00 BST.
A spokesman said BT engineers were still investigating the matter to determine the "root cause".
It is not yet known how many customers were affected.
The BBC's district reporter in the area, Julian Fowler, said that for a number of hours the BT fault had prevented "anyone making or receiving any calls, not just 999."
"I noticed it after 09:00 BST on Monday when I got disconnected after entering the first three digits."
During the disruption, police advised that the 999 number was still accessible by callers using mobile phones.
They also said anyone who needed to contact the PSNI using a landline could call an alternative number, 0845 600 8000.
However, they warned that callers may also experience disruption to the alternative number because of the fault.