Patrick Kielty and Cat Deeley in Rome wedding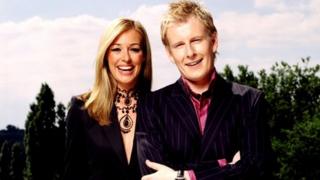 Comedian Patrick Kielty has ended months of speculation about his relationship with television presenter Cat Deeley by marrying her in a secret ceremony in Rome.
The wedding between the 41-year-old from Dundrum in County Down and his 35-year-old Birmingham-born fiancee took place at a church in St Isidore's College in Rome on Saturday.
The service was conducted by Belfast-based priest and friend Father Gary Donegan.
St Isidore's College is a small church which can only accommodate about 100 people.
It says it provides "Catholic marriages for Irish couples".
The celebrity wedding had been a closely guarded secret, but would have been months in the planning as a number of documents are required by the Italian church before a wedding can go ahead.
Newspapers are reporting that Kielty was pictured afterwards wearing a dark coloured suit with an open necked white shirt, while his bride wore a white dress with frills. She wore a simple floral arrangement in her hair.
St Isidore's College is a 17th Century building and part of the Irish Franciscan Province of the Order of Friars Minor.
Its history dates back to Friar Luke Wadding who was born in Waterford in 1588.
Friar Wadding had to go abroad to get a Catholic education because of religious persecution in Ireland.
He was later asked to take responsibility for a small unfinished church and convent in Rome dedicated to the recently canonised Spanish farmer-saint and patron of agriculture, St Isidore of Madrid.
Friar Wadding was granted a free hand to set up a house of studies there for Irish Franciscans. He was considered by many Ireland's first ambassador to the Holy See.