Ulster Covenant: Sinn Fein condemns 'hymn breach' at church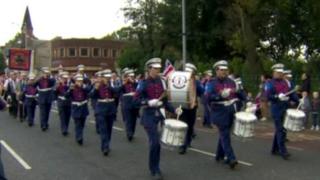 Sinn Fein has called on First Minister Peter Robinson to condemn Protestant bands who played tunes other than hymns while passing a Catholic church.
The Parades Commission had placed restrictions on what music the bands could play while passing St Matthew's Church in east Belfast on Saturday.
Police say evidence was gathered and any breaches of the law would be passed to the Public Prosecution Service.
Up to 30,000 people took part in events to mark the Ulster Covenant centenary.
The biggest policing operation in Belfast for 20 years was in place for a six-mile march from central Belfast to Stormont.
It marked the anniversary of the signing of the document in 1912, which laid the foundations for the partition of Ireland and the formation of Northern Ireland a decade later.
Northern Ireland's Parades Commission, which makes determinations on contentious marches, had said only sacred music could be played by bands passing St Matthew's Catholic Church on the Newtownards Road, in the east of the city.
However, Sinn Fein's Niall Ó Donnghaile said this determination had been breached.
"Outside St Matthew's Church, not just a handful but I think it's fair to say most of the bands taking part openly defied the Parades Commission's determination," he said.
"What needs to happen is the PSNI must present the case to the Public Prosecution Service, who must pursue those who broke the law."
DUP councillor Christopher Stalford said: "I think the way to deal with these issues is in a quiet way behind the scenes, rather than creating a furore in the media, which makes finding accommodation and agreement more difficult."
'Surprised'
Mervyn Gibson, the county grand chaplain of the Orange Order in Belfast, said: "I'm surprised they are raising tensions after the event.
"The time now is to move forward and enhance community relations which many people do, including myself, quietly behind the scenes."
A Parades Commission spokesman said: "Any breach of a determination is a matter for the police to investigate and those involved could be liable to prosecution.
"The commission will take previous behaviour and any breaches into account in reaching future decisions."
The senior officer in charge of the police operation, Assistant Chief Constable Will Kerr, said the aim had been "primarily to ensure the safety of everyone involved".
"The day passed off in relative peace and calm," he said.
"I would like to express my sincere thanks to all of those involved in the hard work behind the scenes over recent weeks, and right up to this evening, to make this possible.
"These very real efforts, made by community representatives and Loyal Orders, supported by their political representatives, show a real willingness to achieve local resolutions.
"Hopefully this will create a more positive platform for dealing with sensitive parades in 2013."