Mauritian prime minister wants justice for Michaela McAreavey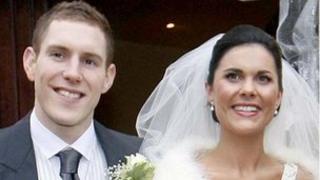 The Mauritian prime minister has reaffirmed his desire to have the murderer of Michaela McAreavey brought to justice.
Dr Navinchandra Ramgoolam told state television, Mauritius Broadcasting Corporation, that local police were collaborating with the PSNI.
Mrs McAreavey, 27, from County Tyrone, was killed at the Legends Hotel on the island in 2011.
Two men charged with her murder, were found not guilty in July.
Avinash Treebhoowoon, 32, and Sandip Moneea, 43, both worked at the hotel at the time of the killing.
Their trial at the Supreme Court in Mauritius lasted more than seven weeks and was one of the longest in Mauritian legal history.
"The authorities have taken all measures to investigate the murder of Michaela Harte," said Dr Ramgoolam.
"I have reiterated the wish to see author/s of this crime be punished in justice."
He said Mauritian police were working with their Irish counterparts.
"It is not true to say that we are not in contact with Irish authorities,", he said.
"The commissioner of police in Mauritius is working closely with them."
Interviews
A new police investigation was initiated into the murder after the two men were found not guilty by a jury.
According to the BBC's Yasine Mohabuth, the new police team, under the supervision of Supt Yeshwant Callee and Insp Roland Dabeesing, has interviewed 30 people.
In July it was revealed that Northern Ireland's Attorney General John Larkin was going to examine the papers from Mrs McAreavey trial.
Mrs McAreavey's father, Mickey Harte, is one of the most respected figures in gaelic football, a sport which is hugely popular in Ireland.
Thousands of mourners attended Michaela's funeral near her family home in Ballygawley, County Tyrone.
The 27-year-old had married John McAreavey just 12 days before she was murdered, and was buried in her wedding dress.