Canadian construction company looking Belfast builders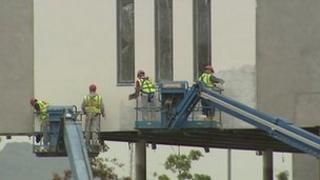 Canadian employers are targeting Belfast in their search to hire unemployed construction workers.
The Canadian construction industry is currently suffering labour shortages and is turning to Northern Ireland to help fill the gap.
The British Columbia Construction Association is making its first visit to Belfast next Thursday to launch a recruitment drive.
It says it has about 500 immediate job vacancies for construction workers.
The company also says it will have up to 20,000 more vacancies over the next few years.
Vice-president of the association Abigail Fulton said the company would be recruiting relatively small numbers initially, but the numbers would rise rapidly.
She said: "Some companies want as few as two or three recruits while others want up to 100, but these jobs are definite.
"Irish craft workers often have a wider skills range than their counterparts in Canada whose training can be more narrowly focussed."
Her initial recruitment list on behalf of 85 companies is for up to 500 people ranging from project managers to estimators, carpenters, heavy duty mechanics, plumber/gas fitters, heavy duty welders and metal fabricators, electricians, steel workers, and commercial roofers.
The wages for construction jobs in Canada are thought to be lower than in Northern Ireland.
The association says it can help successful applicants to get the necessary permission and work permits required to work in Canada. However, the process can often take several months.