Lough Neagh: Who should own it and what should its future be?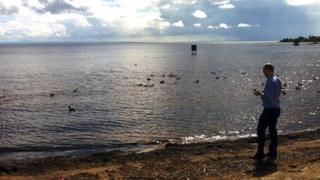 Lough Neagh is familiar to all, at least as the huge bank of water it represents on the map of Ireland.
It's the biggest fresh water lake in Ireland and Britain, 20 miles long and nine miles wide.
What's less obvious is how its future affects our lives.
It supplies 40% of the water used in Northern Ireland and it is home to industry, business and tourism generating millions of pounds.
The most immediate beneficiaries are the many communities and families living along its long shoreline.
But, these communities and families don't own Lough Neagh, nor does any local authority nor the Assembly at Stormont.
It's owned by an aristocratic estate in England, the 12th Earl of Shaftesbury, Nicholas Ashley Cooper.
The earl is 31 and inherited the title as a result of a double family tragedy. First his father, Anthony, was murdered in France in 2004 at the behest of his third wife.
Nicholas' brother, Anthony, then became the successor but, within months, he died from a heart attack while visiting Nicholas, in New York.
'Burgeoning tourism'
Nicholas was a nightclub DJ there at the time. He was also an endurance runner before suffering spinal injuries in a riding accident. He is currently restoring the estate residence at Wimborne St Giles.
Now, the family's ownership of Lough Neagh is in the spotlight. MLAs at Stormont have set up a working group with a view to getting the lough into public ownership.
Later this week, the earl will take part in a symposium being held as part of the Stormont bid to get the lough into public hands.
I've been travelling around the Lough Neagh shoreline to have a look at the lives and livelihoods of the people who live there.
I found many families and communities who depend on the lough for a living - the renowned eel fishery, the Pollen fishermen, and the sand extraction industry.
The Oxford Island visitors' centre and marinas like the one at Ballyronan are all part of a burgeoning tourism industry but it's the potential to make even greater strides in developing tourism that is driving this debate.
'Real danger'
Billy Mullen from the Lough Neagh Rescue Service explained his concerns about its future.
"They could sell it to a foreign company for example," he said.
"A lot of the water companies from abroad, particularly from France, are very prevalent in the UK water market and they, for example, could purchase Lough Neagh and make a charge."
"This could be devastating to the amount that people in Northern Ireland would have to pay for their water for that I feel is a real danger."
But, there's another view.
George Emerson's family has run a sand extraction business there for decades and he said he doesn't favour a change of ownership and believes the earl doesn't want to hand it over either.
"He has made it very clear that they have no desire to see that happen and we have made it very clear as well that we have no desire to see that happen."
The debate is only beginning and already it's clear, like most British-Irish debates, this one too could take time and some unexpected turns before there's a meeting of minds.
Evicting the Earl will be broadcast on BBC Radio Ulster on Sunday at 13.30BST. It will be repeated on Thursday evening at 19.30BST.