Search for a star with eggs factor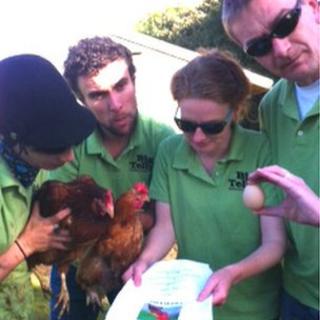 When the curtain goes up on a new play next month a star will be hatched.
Five contenders will be plucked from obscurity on Friday and given the chance to show they have the eggs factor.
It's no yoke - around 100 chickens at a farm near Coleraine are vying for a starring role in new play, the Scarlet WWWeb.
Friday is their big chance to ruffle some feathers and move up the pecking order.
Zoe Seaton, artistic director of the Big Telly theatre company, and some of her actors are going to be 'auditioning' the nervous hopefuls.
Edgy
They're looking for five hens to take on the stage - and on tour - during the two week run of the show.
"In the first part of the play, set around 1880, the chickens are an important source of income, as the money from selling eggs makes it possible for the main characters to realise their dreams of escape," said Zoe.
"In the second part, set today, the characters are living their dream, they have escaped the pressures of urban life to live in a rural setting. And what picture of rural bliss is complete without chickens?
"The chickens are also a constant reminder that this is a piece of live theatre, they add an element of unpredictability, a reminder that things will be different every night and that makes the whole thing feel more spontaneous, more exciting, more edgy."
The actors are putting on their wellies on to select their favourites.
Shelley Atkinson, said: "I'm hoping that we'll see some world-class chickens, chickens with a lot of Hollywood experience, big names - but small egos. No divas, just actors' chickens, with the desire to make good work."
Vincent Higgins said: "I've worked with horses, dogs and pigs before but never chickens. I'm a bit worried to be honest.
"They don't have the best of reputations within the industry. They are meant to be worse than opera divas. I just don't want to be doing an emotional scene and one of them decides to lay an egg and upstage me."
Here's hoping the critics don't give them a roasting!
The successful chickens will get their first taste of the spotlight on BBC Newsline at 18.30BST tonight.
The Scarlett WWWeb opens at the Riverside Theatre in Coleraine on 19 October and tours Ireland and Scotland until November.