John Woods walking north-south interconnector route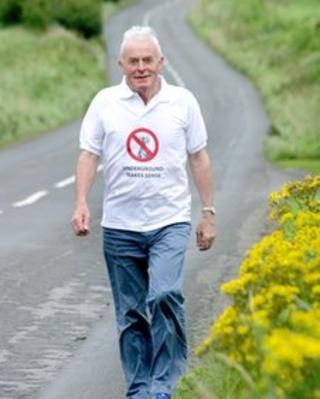 A 70-year-old man is walking almost 80 miles in protest at overhead pylons that would link the electricity grids of Northern Ireland and the Republic of Ireland.
John Woods, from Armagh, has spent five years campaigning against the Northern Ireland Electricity and Eirgrid plans.
He believes the overhead grid will adversely affect local people's health.
Currently, cross-border electricity suppliers are not able to share electricity at peak times.
It means that cheaper surplus electricity generated on one side of the border can not be easily shared by customers on the other side.
The interconnector would help complete a robust power loop and allow the transmission of renewable energy from the west of the island where wind and wave power will provide much of the future energy needs.
The managing director of Linwoods is a leading figure of the SEAT (Safe Electricity for Armagh and Tyrone) group which has expressed concern over health risks that are claimed to come from the electromagnetic fields that come from the lines.
Improved service
Mr Woods, who lives about 130 metres from the proposed route of the huge power lines, as well as 6,400 others who have signed a petition, argues that the grid will not only impact on the health of local residents, but will also have detrimental environment and economic repercussions.
The SEAT group believes the proposed 20ft, 4000v overhead pylons are dangerous and has instead proposed undergrounding the cable to reduce risks.
"SEAT completely understands the need for a better energy supply and we all want an improved service - but it must be safe," Mr Woods said.
"I want to make it clear that SEAT is not opposing the interconnector itself. We are however vehemently opposed to the use of dangerous overhead pylons.
"SEAT instead proposes undergrounding the cable to reduce health and numerous other risks - it's the responsible alternative, it can be done and has been done cost-effectively by other countries, as research clearly shows."
Earlier this year, an independent report, commissioned by the Republic's energy minister Pat Rabbitte, said it would be technically possible to use underground cables but added that the increased cost would be enormous.
Mr Woods' three-day journey has followed the route of the interconnector, which would run from near the village of Moy in County Tyrone across the border to join the Republic's main electricity grid in County Cavan.
He began on Thursday in Batterstown, County Meath, at 09:30 BST and arrived in Kingscourt, County Cavan, at 18:45 BST.
On Friday, he hopes to walk a further 30 miles to reach Derrynoose in County Armagh, before he sets off on Saturday to Moy, County Tyrone.
He is being accompanied by a 14ft mini pylon towed by a car and his son and other SEAT members will be joining him along the way.
"My mission during this walk is to open eyes and hearts to the fact that giant, high-voltage pylons - and there will be hundreds of these monstrosities - are a serious and very real threat to those living under their shadow," Mr Woods added.
"We've got to stop these pylons being erected and we intend to fight until we achieve our objective."