Body scanner trial begins at Magilligan prison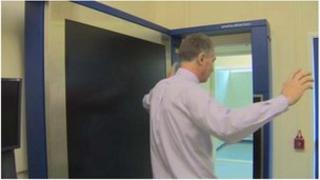 The new search scanner now being used at Magilligan Prison for a trial period is one of the most sophisticated pieces of machinery on the market.
The system, called a millimetre wave scanner, takes searching to a new level.
A second pilot, using a similar scanner, will be supplied by a different company.
It will begin at Hydebank Wood Young Offenders Centre in October.
Those being searched will walk in front of the scanner and raise their arms and then turn around 360 degrees. Any contraband material can be detected from the images taken.
Rory Doyle, from the company that supplies the scanner, said the technology increases the security and detection capability in checkpoints and search areas.
"It uses a safe radio wave-based technology to screen a person and locate concealed objects that may be hidden beneath clothing," he said.
"It will detect objects of any material type, so plastic objects, metallic objects, liquids, narcotics, or anything that is different essentially to the body will be highlighted by the scanner."
The test period will determine whether advances in technology can reduce the need for full body searches in favour of effective and less intrusive methods.
Less intrusive
This is in line with the findings of Dame Anne Owers. Last year she led an independent review team that recommended that the Prison Service should seek alternatives to full body searches.
The review team said the prison authorities should try to find "an effective and less intrusive method than full body-searching".
Traditional methods of searching will be used alongside the scanners in the pilot. It is all aimed at detecting contraband concealed on an individual.
The pilot will run for three months and will be subject to a full evaluation.
Dissident republicans in Maghaberry prison near Lisburn have been engaged in a long running protest calling for an end to strip-searching.
The republican inmates have been involved in a dirty protest, smearing excrement on walls and floors of their cells. They have argued that electronic scanners like those used at airports are a secure alternative.
Sinn Fein MLA Barry McElduff said he is disappointed that Justice Minister David Ford has not given a timescale for when the latest body-scanning equipment can be introduced into Maghaberry prison.
"In response to a question from myself, the Justice Minister, David Ford, said that the new body-scanning equipment will commence a test period in Magilligan and Hydebank," he said.
"While it is good news that this equipment is to be introduced, which will end the use of degrading strip-searches if deemed suitable, the minister could not give me a time scale for its introduction in Maghaberry.
"Maghaberry is where prisoners are protesting against strip-searches so it is incumbent on the minister to have this equipment installed there as soon as possible.
"To delay any longer is unjustified and only prolonging unnecessary conflict within the prison."
Mr Ford said that the three-month trial was using body scanners alongside the existing full body search to establish if the technology was "as good as the current system".
"On the basis of this three-month trial, we'll decide whether it's possible to extend it to permanent use at those two prisons (Magilligan and Hydebank Wood) and see whether there's any possibility of this technology at Maghaberry," he said.
"We recognise that full-body searching is not pleasant for the prisoners or the Prison Officers either."