Northern Ireland broadband provision defended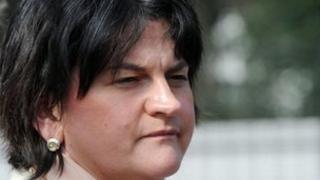 BT and the Department of Enterprise, Trade and Investment (DETI) have defended broadband provision in Northern Ireland.
BBC Radio Ulster's Good Morning Ulster has been examining the issue.
Many people have contacted the BBC about the poor broadband speed where they live, particularly in rural areas.
However, Frank McManus of BT said: "Over the past couple of years we've seen massive strides - tens of millions invested by BT."
He added: "In an ideal solution all those who currently can't get (broadband) would be in one little area and could all be addressed together.
"But unfortunately they tend to be the long distances, the pockets right across Northern Ireland. We're looking to see is there some way we can address it."
Mr McManus said Northern Ireland's broadband provision was "certainly not a joke".
"Europe invited a delegation from Northern Ireland last week to come and share with the member states the success of broadband in Northern Ireland," he said.
"English councils are coming to Northern Ireland next week to understand why Northern Ireland is so good."
Action plan
DETI said £45m had been invested in upgrades and extensions to Northern Ireland's telecommunications network over the past four years.
"Some £21m of this has been specifically used or earmarked to support improvement of networks in rural and remote locations, where there is no likelihood of private sector investment," it said.‬
‪"This investment has also brought the most extensive roll-out of fibre anywhere in the UK and, indeed, Europe, through DETI's Next Generation broadband Project."‬
The department's Telecoms Action Plan proposes that by 2015 virtually everyone in Northern Ireland should have access to broadband of at least 2 mbps and 90% of premises will have super fast broadband speeds of 24mbps.
Enterprise Minister Arlene Foster has just returned from California where she promoted high tech business links.
Mrs Foster admits that her own broadband service at her home in County Fermanagh is "sometimes intermittent" but said: "We shouldn't forget that Northern Ireland is the best connected region in the United Kingdom and indeed if you look just across the border we are miles ahead of the Republic of Ireland.
"I know people sometimes get frustrated when they can't access broadband in their own home but we are trying to solve that working with partners in the private sector."
In terms of mobile phone coverage she said that part of the problem is that targets set by the regulator Ofcom are based on the whole UK population.
"Part of the difficulty with 3G and indeed in many cases 2G coverage has been that Ofcom set national targets for coverage and I'm delighted to see that Ofcom in respect of 4G have set a Northern Ireland target which will hopefully mean that there's more coverage," the minister said.
"The Telecoms Action Plan looks at where are the not spots for 2G and 3G and we're looking to put more investment into that area as well."
DETI is currently carrying out a consultation exercise to identify areas where the choice of broadband provision is limited or speeds are less than 2 mbps.
There are more than 5,000 postcodes currently on the list of weak broadband coverage, but the irony is that the survey is taking place online.