Border regions 'want equality'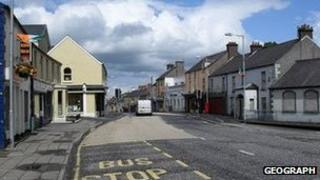 Eamonn McCann sits on one side of his desk, I on the other, both staring at the creakingly slow crawl of the progress bar on his PC.
"That's the problem," he smiles. "Our broadband's so slow it takes forever just to load a speed test programme to show us how slow it actually is."
One quarter of a megabyte per second comes the answer - eventually.
Eamonn runs Industrial Safety Services in Keady, County Armagh. They provide specialist safety equipment to customers all over the world, including some of the petro-chemical giants.
"We deal with people from America and the UK," he says. "and they kind of laugh at us when they're over here and they see the speeds we're getting."
Eamonn's story is typical of small companies in rural areas struggling to survive in these tough economic times.
To them, the internet seems like a lifeline, but one that is just tantalisingly out of reach.
The Irish Central Border Area Network, ICBAN, is a body which brings together local councils from both sides of the border.
Its mission is to improve the quality of life and prosperity of people living in the central border region, an area described by ICBAN's chief executive, Shane Campbell, as being "on the periphery of Northern Ireland, on the periphery of the Republic of Ireland, on the periphery of the UK and on the periphery of Europe".
They have spent the past year producing a telecommunications strategy for the area.
Shane explained: "Our survey work, as part of this project has revealed that, in some areas, 21% of people don't have broadband take-up.
"In terms of how we compare to national UK; our region, those five council areas of Armagh, Dungannon, Cookstown, Omagh and Fermanagh, has the highest percentage of subscribers getting less than two megabytes per second for any area of the UK.
"These are rural deficiencies. They are a reality and they are a source of frustration to people in rural areas."
Shane accepts that Belfast is Northern Ireland's key economic driver, but says government must redress what he calls "the rural imbalance".
"It's about equality, but it's also about securing the sustainability of Northern Ireland as as economic entity," he said.
"We know that in our region we don't have the population density. But the people of our region have the same right as other people to get these services.
"And that will involve government coming in with the stated intention of investing in those areas, to provide the funding which will allow the telecom providers to come in and to look at this with a more solid business plan than at present."
It's not just businesses who are concerned.
A public meeting on this subject in Derrynoose, near Keady, attracted upwards of 70 people, an impressive figure for such a tiny village.
The Lord Mayor of Armagh, Sharon Haughey, lives in and represents one of the so-called 'not spots' and she said people do get frustrated when they see yet more investment in Belfast.
"We constantly see the good news stories coming out," she said. "Stories about higher speed broadband and investment being put in by our local government for higher speeds.
"But yet there are people in rural areas who have no coverage whatsoever and I think that's wrong.
"It has to be a priority of this government to ensure that we have 100% coverage and that includes rural areas."