Improved picture in Fermanagh, but blackspots remain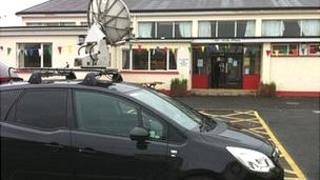 In recent years broadband speeds in Fermanagh have improved dramatically, even in rural areas as long as you are lucky enough to live near a superfast fibre optic broadband cabinet.
But there are still plenty of broadband blackspots and mobile not spots.
3G has only appeared in the last few months on certain mobile networks in a mile or two radius around Enniskillen.
I can't rely on it to broadcast in the same way as my colleagues which is why I drive around with a satellite dish on the roof of my car - but that's not really a practical solution for anyone who hasn't got broadband.
Only one pupil I spoke to at St Mary's High School near Belleek had a smartphone (which was broken). An equivalent class in Enniskillen would be full of Blackberries.
In some villages it's almost impossible to get connected. Dermot Carroll @DC_Harps tweeted: "Mobile signal in Derrygonnelly is shocking. Have to prop my phone in the window and even then not guaranteed a signal."
If your phone picks up a stronger signal from the Republic of Ireland, then you can be landed with unexpected charges in areas some distance from the border.
Helen Hamill @helenhamill said she gets roaming charges outside Lisnaskea and at the football pitch in Lisbellaw. I recently received a "Welcome to Ireland" text driving along the A4 into Augher.
James Johnston from Enniskillen Mart told me: "I live just outside Irvinestown and often I'd be up the yard and I'd get an international signal and that would be at least 10 miles from the border. It's certainly not right on the border that this is an issue."
For those who can't get fast broadband speeds it can be very frustrating, but some local businesses are benefiting from high speed connections to access international markets.
Colum Courtney the managing director of Hybrid Mail Solutions, a new bulk mail service based in Lisnaskea, said his business has a great fibre optic broadband connection which allows it to be strategically placed on the border.
"The connectivity is paramount. Our business wouldn't exist without it. We get letters from the UK, from the south of Ireland and if the customer can't send us their mail instantly we're not in business," he said.
"It's all about speed, it's all about efficiency and our broadband connection is second to none and thank God for Fermanagh having a good connection like that."