Rural county sees struggles with speed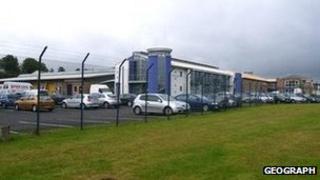 Tyrone is the largest county in Northern Ireland - it's also very rural and that is where problems with wifi, broadband and mobile signal start.
Countryside means distance and that affects the speeds you can expect.
It also affects mobile phone signal.
I've stood at a crater in rural Tanzania and taken a call from Northern Ireland, yet on the shores of Lough Neagh and in the Sperrins, I'm unreachable.
"Certain areas are all right," said one man using his smartphone in Omagh.
"It's not good indoors though. I don't know what broadband speed I get, but it goes and that's all I worry about!"
A schoolboy says it can be poor.
"I live in Sixmilecross and if you try to watch a video online, it's very slow."
Ten miles away, signal has gone from bad to worse, since a mast was removed from the village of Gortin.
"It's a disaster really," said one woman. "We're back in the dark ages."
Another woman who lives about five miles outside Gortin said it depends on the weather.
"If it's really windy, we don't get any signal at all."
It's not all bad news though.
The Omagh Enterprise Centre is a hub for Project Kelvin, a telecommunications cable linking Northern Ireland to the USA and Europe. Businesses there can access speeds from 10meg to 10gig.
Graham Campbell specialises in rural wifi/broadband access. He relocated for the speed.
"Our business was growing and we realised we needed more bandwidth. We also needed to be able to up that bandwidth very quickly," he said.
"As more content is delivered over the internet, home users require at least 2meg. Unfortunately, with traditional copper lines, once you cross six or seven miles, they drop off to half a meg, if you can even get that."
There are alternatives, such as installing a dish. But businesses want simple solutions.
"To us and the companies we support, speed makes a massive difference," said Mary McCrory, ICT and business development manager at the centre.
"These days, we want things right away - people won't accept the world-wide wait."