Good and bad speeds in Newry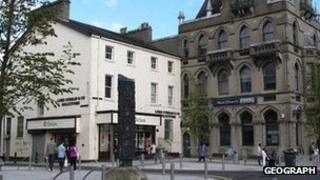 Location is key when it comes to connectivity in Newry.
If you live or work in the right place internet speeds are good. If not, you struggle.
"There are pockets of Newry that are bereft of any speed," said David Hanna of Hanna Hillen Estate Agency, based in Hill Street.
"We want to bring four or five new staff but we don't have the broadband speed. Public wifi doesn't have the security that we need.
"We have staff out and about in customers' premises and we need to be able to get access into our own office to deliver the quality of service they want."
On the edge of the city, Autoline Insurance Group is very happy with its internet speed. The company also has offices in Coleraine, Ballymena and Downpatrick.
"Internet connectivity is mission critical to us," said Operations Manager Julie Gibbons.
"We have a significant amount of data between our four offices."
Julie said she was disappointed that Newry was left out of the Project Kelvin loop.
That's the digital ring that connects hubs around Northern Ireland to each other, the US and the rest of Europe making high speed broadband a reality.
"It basically came round from Belfast, then went down to Armagh, across the border at Monaghan thereby effectively cutting out the whole of the south Down area," she said.
Project Kelvin does pass through Dundalk, across the border in County Louth.
The president of the local chamber of commerce Paddy Malone said that was one of the reasons why PayPal has established itself in the town creating nearly 2,000 jobs.
"Kelvin was a tipping point. We were competing against Limerick. PayPal is the single biggest investment the IDA will make in Ireland this year," he said.
Dundalk also managed to avoid digging up the roads to lay cables. Instead they run through the sewers.
"It meant that we were able to connect all the local authorities. The town council, the county council, the Guards, the fire station, the health board and the hospital are all interconnected," said Mr Malone.
"Nothing had to be disturbed. No digging up any roadway. People were unaware other than seeing open manholes."