Orange changes policy on talking to residents' groups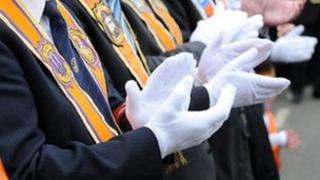 The Orange Order has changed its policy on engagement with residents' groups to discuss contentious parades.
The Grand Orange Lodge of Ireland has confirmed that it decided formally in March that "flexibility be allowed over engagement at a local level".
This means lodges can decide whether to talk to residents' groups in their area to seek agreement over parades.
Previously, the Order's policy was not to engage directly with "Sinn Fein-backed residents groups".
It is understood this policy has now changed in order to give flexibility to local lodges to engage in talks with residents groups if they decide it is appropriate to do so.
On Wednesday, Mervyn Gibson, the county grand chaplain of the Orange Order, said the organisation did not rule out talking to residents' groups in Belfast in the future to resolve parading issues.
He was speaking ahead of Saturday's Ulster Covenant centenary parade in Belfast.
David McNarry, who is a former assistant grand master of the Grand Orange Lodge of Ireland, said: "The grand lodge has empowered any district, putting forward a reasonable case to enter into discussions on a localised basis on local issues, to do so if it feels comfortable."
The independent MLA added: "The best people to do this are the people on the ground."
Meanwhile, it has been confirmed that a resident from nearby Carrickhill is to go to court on Friday to seek a judicial review of the ruling on Saturday's parade.
The Orange Order has said it expects up to 30,000 marchers to take part in the event across the city.
The Parades Commission has ruled that only hymns are to be played as part of the parade passes St Patrick's Church in north Belfast.
It also said there should be no loyalist supporters on that section of the route, while the numbers of nationalist protestors have been limited to 150.
Reverend Mervyn Gibson said making sure the parade passed off peacefully was the priority.
Last month, seven police officers were injured when trouble broke out after several loyalist bands defied a Parades Commission ruling by playing music as they marched past the church.
The Royal Black Institution, which had organised the 25 August parade, later apologised "for any offence caused" to clergy and parishioners at St Patrick's.
In an open letter, it said its anger was not directed at the Catholic church.