How Ulster Covenant drew support across England and Scotland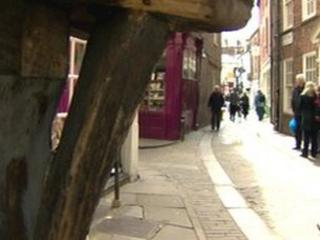 Much has been written about the many thousands of people who signed the covenant in Ireland.
What is often forgotten is the story of those who registered their protest elsewhere.
Recently I travelled through England and Scotland to hear about those who signed the Ulster Covenant back in 1912.
In the major English cities like Liverpool, Manchester and Newcastle many students and workers from Ulster all registered their protest against Home Rule.
Historian Dan Jackson says those who signed the covenant came from all parts of society.
"You had the more aristocratic families who would have a base in England and Ireland. You also had people who would move around the great industrial centres of the midwest of Scotland and Northern England," he said.
Debated
York is a case in point where 650 people signed the covenant and Women's Declaration at a number of venues.
Their number included two sisters, Hilda and Lilla De Yarburgh Bateson who were members of a wealthy Anglo-Irish family who had political and economic ties to Ireland.
The family had a property in Belfast and felt very strongly about opposing Home Rule.
Annie Peel who is the great niece of the two sisters says the issue of Home Rule would have been debated in the family home.
She says they may have been prompted to sign the Women's Declaration because they feared change.
"I think they would have been quite worried wouldn't they if they had business interests," she said.
Sir Edward Carson played a key role in encouraging anti Home Rule support in Britain.
Exiles
After he signed the covenant in Belfast he travelled to Liverpool where he was met by thousands of supporters.
Michael Phelan, from the Orange Order in England says he got a similar reception in Scotland.
"After a couple of days in Liverpool he went onto Glasgow where he was greeted by a similar level of support. So it was unionism right across the United Kingdom. "
In Scotland, anti-Home Rule protests occurred in the major towns and cities where many Ulster exiles were based.
Belfast born Alvin Jackson, who is a professor at Edinburgh University, says the Home Rule debate in 1912 caught the public's imagination.
He says those who signed up did so because they felt their identity would be lost under Home Rule.
Familiar names
"They were united in their conviction that Home Rule was going to be detrimental to the material well being of Ireland as well as their religious and civil liberties," he said.
Some of those exiles signed the covenant at Greyfriars Church.
It was deliberately chosen as a venue as it is one of the most historic sites in Edinburgh.
It is the place where Scottish Presbyterians signed a National Covenant in 1638 opposing the interference by the Stuart kings in the affairs of the Church of Scotland.
Here in the list of those who signed the Ulster Covenant you will come across some familiar names.
In the century old archive you can see the ancestors of well-known unionists, such as the former Ulster Unionist Party leader Lord Molyneaux, and his party colleague James Cooper.
Although much has changed in Scotland in the last 100 years the parallels between the politics of 1912 and 2012 are uncanny.
A century ago Edinburgh played host to arguments about independence and the union.
Today as Scots consider their future a similar debate is underway.