Jill Meagher disappearance: Melbourne CCTV footage shown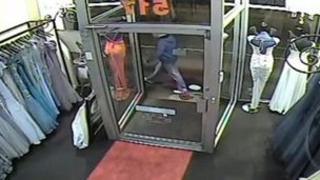 Melbourne police have released CCTV images of Irish woman Jill Meagher, taken minutes before her disappearance in the early hours of Saturday.
The CCTV footage shows six people walking near the 29-year-old Drogheda native prior to her disappearance.
They have all been urged to come forward.
The detective leading the investigation said police are keen to talk to a man who appears to be talking to Mrs Meagher in part of the footage.
Det Insp John Potter, said: "We're interested in talking to anyone that was in the Sydney Road area in the early hours of Saturday morning and may have seen Jillian, or indeed anyone that knows who the people in the footage are.
"We're particularly interested in talking to a man in a blue top that's depicted in the footage who appears to be talking to Jillian."
Det Insp Potter told journalists that detectives did not know whether the man knew Mrs Meagher, but that it appeared to be a casual conversation.
The apartment that Mrs Meagher shared with her husband Tom was searched twice on Tuesday, but Det Insp Potter said that Mr Meagher is not being treated "in any way" as a suspect and there are no other suspects at this stage.
Police said they have grave concerns for Mrs Meagher's safety five days after her disappearance.
Det Insp Potter added: "She hasn't been heard of since the early hours of Saturday morning and it's now Wednesday. She hasn't accessed her bank records since that time.
"There's been no word from her mobile phone and with all the media coverage on this, we do hold grave concerns for her welfare."
Police launched a major investigation after Mrs Meagher went missing and they say they are working through hours of CCTV footage.
Det Insp Potter said: "Investigators are continuing to work through a large amount of CCTV footage.
"We're also conducting other inquiries and investigations. We currently have 140 calls to Crimestoppers, which we need to scrutinise thoroughly."
Mrs Meagher is known to have phoned her brother in Perth from 01:43 to 01:45 local time just after the footage ends.
The handbag she is seen carrying in the footage was found in a nearby lane on Monday morning and police believe it may have been planted there.
Mrs Meagher works for ABC radio and had been out for the night with work colleagues.
She moved with her husband to Australia from Ireland three years ago.