Communisis relocates 46 jobs from Lisburn to Crewe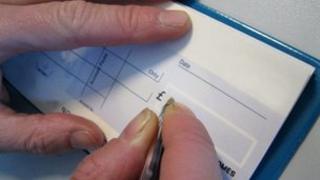 Up to 46 workers at a marketing services company in Lisburn have been told the factory is to close and their jobs are to be relocated to England.
Communisis prints cheque books for banks at its premises on Altona Road.
The firm said the move was in response to a 50% fall in the number of people using cheques as a means of payment.
Staff have been given the option of transferring to Cheshire, but Lisburn councillor Stephen Martin said most staff "can't just up sticks and move".
"The majority of staff in Lisburn have responsibilities such as young families and mortgages," the Alliance representative said.
'Difficult'
The firm's director of human resources, Tony Commons, also acknowledged that relocation would not suit all those affected.
"We've had downsizing in all our facilities as the demand for cheques has reduced," he said.
"It's a very sad time because it's a good workforce and a good factory.
"We've endeavoured to see if we could find alternative products but it has proved very, very difficult in the present environment," Mr Commons added.
The HR director said Communisis was talking to union representatives about the next steps available to workers affected by the closure.
In a statement, the Unite union said there was a "deep reluctance to accept" the company's decision to relocate its business.
'Redundancy deal'
Unite's regional organiser, Joanne McWilliams, said both the union and the firm had tried, without success, to find alternative work for the printing plant.
"We have gone round the houses on this but to no avail.
"The union is now looking to secure the best redundancy deal for our members," she said.