Belfast bus lanes 'need time to settle in' says Danny Kennedy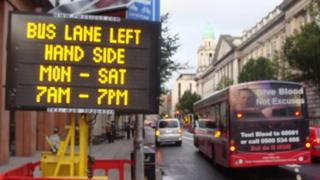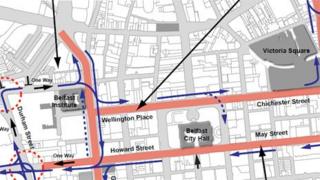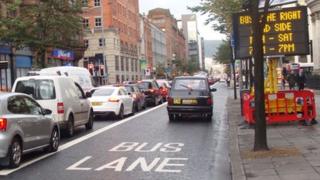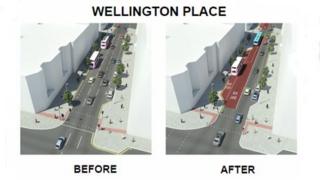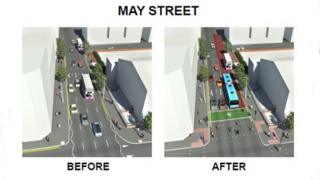 A controversial new bus lane system in Belfast city centre needs to be given time to settle in, Stormont Transport Minister Danny Kennedy has said.
Motorists have complained of added delays following the introduction of the traffic measures last week.
Mr Kennedy said the idea behind the Belfast on the Move scheme was "to move people, not vehicles".
"Nobody likes changes, and sometimes changes can involve inconvenience in the settling-in period," he said.
"I accept many of the criticisms that were made, particularly yesterday, although I have to say that weather conditions played a part in it."
Many motorists complained of long delays on Tuesday, the first day of heavy rain since the bus lane system began operating.
'Changing ethos'
Mr Kennedy told the BBC: "I am committed to improving public transport in Northern Ireland generally and Belfast in particular.
"We need to give the scheme time to work and to bed in; we need to give more emphasise towards changing the ethos of the travelling public.
"It is akin to turning a major juggernaut, but what we're trying to do is improve trains, bring in new buses, add wifi, add facilities for those who are less abled and make it an attractive option."
The project gives priority to public transport, pedestrians and cyclists.
The bus lanes operate on May Street, Donegall Square South and Howard Street from 07:00 BST until 19:00 BST, Monday to Saturday.
A bus gate has also been opened on May Street, which allows buses to get into their lanes without having to navigate through traffic.
There are plans to create new pedestrian crossing points; 1km of new cycle lanes; to speed up public transport and to create more disabled parking bays.
The Northern Ireland Roads Service said about 60% of traffic using the streets at the front and back of Belfast's City Hall is through traffic which is not going anywhere in the city centre.
The advice to drivers is to use different routes, like the M3, the Westlink and the Outer Ring Road.