Commission to rule on Ulster Covenant Orange Order parade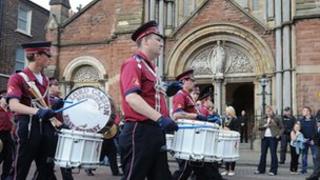 The Orange Order estimates 25,000 to 30,000 marchers will descend on Belfast city centre for the Ulster Covenant commemoration parade on Saturday.
The order has said it does not want the dispute around St Patrick's Church to be the focus of the day.
The Parades Commission is expected to issue a ruling later on Saturday's parade.
The Orange Order has said the event will be one of the biggest it has organised.
Marchers and bands will meet at Belfast City Hall and then march to Stormont.
It is thought it will take two hours for all those involved to get through the gates.
About 2,000 marchers will take part in the feeder parade which is due to go past St Patrick's Church.
The Orange Order previously said bands taking part in the parade would only play hymns when passing the Catholic church on Donegall Street, north Belfast, where trouble flared last month.
The decision follows talks with clergy and parishioners and community leaders.
In August, bands defied a ruling banning music at the church. In the subsequent riots, seven police officers were injured.
The order has said it wants the day to remain peaceful and has urged anyone not involved in the feeder parade to stay away from the Donegall Street area.
The leaders of the two main unionist parties met the commission on Tuesday and Sinn Fein's Martin McGuinness also spoke to members of the body.
In a joint statement, DUP and UUP leaders Peter Robinson and Mike Nesbitt urged all those attending the parade to behave with "dignity and honour".
They said those protesting against it should do so in a lawful manner.
Mr McGuinness said it was "hugely disappointing" that the Orange Order "continue to choose to disrespect the residents of Carrick Hill by refusing to enter into dialogue with them".
"Now is the time for political leaders to step forward and show leadership to ensure Saturday goes off peacefully," he added.
Trouble
The march on 29 September is part of events marking 100 years since the signing of the Ulster Covenant.
The Covenant was signed by just under half a million men and women, on and before 28 September 1912.
It was signed in protest against the Third Home Rule Bill, which would have brought in an Irish parliament with responsibility for Irish domestic affairs.
Sir Edward Carson - a lawyer from Dublin and leader of the Irish Unionists - was the first person to sign the Covenant at the Belfast City Hall.
Signatories pledged to use "all means which may be found necessary to defeat the present conspiracy to set up a Home Rule parliament in Dublin".
It it is seen as one of the key events in unionism.