Child heart surgery: ministers Poots and Reilly discuss all-Ireland option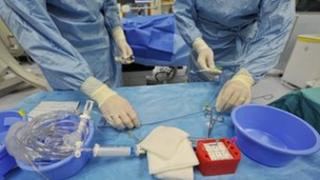 Stormont Health Minister Edwin Poots has confirmed he has been discussing the provision of child heart surgery on an all-Ireland basis with his Dublin counterpart, James Reilly.
More than 50,000 people have signed a petition calling for the retention of child heart surgery in Belfast.
Mr Poots told the assembly he could not ignore the views of eminent health professionals who had concluded the service was not sustainable.
He said he believed a cross-border network for child heart surgery would be advantageous for both Northern Ireland and the Republic of Ireland.
The minister said he wanted to be aware of all available options before coming to any decision.
He was speaking as a consultation began to consider what should happen with services for children in Northern Ireland who require heart surgery or specialist cardiac care.
Earlier this year a UK-wide review found that although the service at the Royal Belfast Hospital for Sick Children is safe, it is not sustainable.
It could mean that children would have to travel to England for treatment.
The consultation period runs until December, and Mr Poots will consider its findings before making a decision early next year.