Scottish independence: Orange Order in Ulster Scots referendum call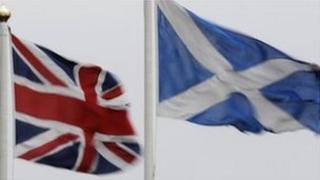 People with an Ulster Scots background should be allowed to vote in Scotland's independence referendum, a senior Orange Order member has said.
Dr David Hume said Ulster Scots had played a key role in Scottish history.
"We are stakeholders as well. Surely a decision such as this should not ignore our input?" he said.
He was speaking at a Grand Orange Lodge of Scotland event in Glasgow to commemorate the centenary of the anti-Home Rule Ulster Covenant.
"In 1912 Scots unionists watched anxiously for Ulster, and in 2014 Ulster will watch anxiously for you as nationalists seek to win a referendum which would alter totally the constitution of our nation," he said.
"A union without Scotland would be a poorer place."
He added: "We will not forsake you as your forefathers did not forsake us.
"Many of them were not born in Ulster so they could not sign the covenant, but they held it in their hearts. We will not forget you for that and the continuing support you give to us."
Dr Hume said Ulster Scots "provided the first unifying force in Scotland in the 6th Century AD and we later extended Scottish influence to Ireland in the 17th Century".
The SNP-run Scottish government is planning to hold a referendum on independence in autumn 2014.