Baby dies in Antrim road accident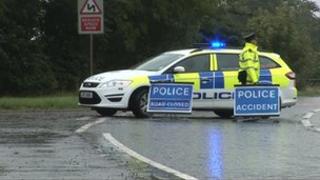 A one-year-old child has died in a road accident in Antrim.
Two women and another child were treated in hospital following the crash on Dublin Road at 09:50 BST on Monday.
No other vehicle was involved.
The women were later discharged from the Antrim Area Hospital. The other child has been transferred from the Antrim Area Hospital to the Royal Victoria Hospital in Belfast.
Police have appealed for anyone who witnessed the collision to contact them.
The road was closed between the Old Stone Hill and Dungoval junctions while police examined the scene.
It has since reopened.