Fianna Fail leader Micheal Martin rejects apology call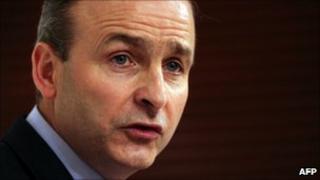 The leader of Fianna Fail has described the calls from the Northern Ireland Assembly for an apology from the Irish government as "confrontational".
Micheal Martin said he was "extremely disappointed with the tone, the tenor and the nature of the debate".
A DUP motion had called on the Irish government to apologise for its alleged role in the emergence of the IRA.
The motion was passed by 47 votes to 46.
Mr Martin said he rejected any suggestion that Irish governments had, in the past, connived with or supported the IRA and found the suggestion "reprehensible".
Speaking on BBC Radio Ulster's Evening Extra, Mr Martin described the debate as "an attempt to rewrite history".
"I understand the pain and anger of the victims of the hideous activities of the IRA," he said.
"We must not shift the locus of blame away from the Provisional IRA and on to someone over the border," he added.
"Those that must apologise for the actions of the Provisional IRA are the Provisional IRA themselves."
He said he felt strongly about the because he knew "from my family and from my time in government the effort and sacrifice of the gardai and the army to thwart the activiities of the Provisional IRA".