Rise in number of empty shops across Northern Ireland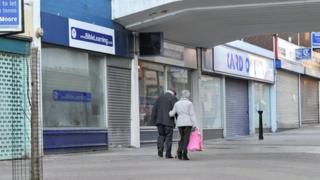 Almost a quarter of shops in Belfast are vacant, according to new research, while across Northern Ireland, the number of empty shops has also risen.
The research, conducted by commercial property agency Lisney, said 23% - or almost one in four shops in Belfast - are now lying vacant.
In NI as a whole, the percentage of empty stores has reached 19%, meaning that almost one in five shops is empty.
Vacancy rates in Newry and Coleraine have risen most, doubling since 2011.
The figures show a substantial increase in the number of empty shops across Northern Ireland over the past year.
They also point to a further widening of the gap with the rest of the UK, where the average vacancy rate is around 11%.
The report authors blame the amount of store closures on what they have described as the "unprecedented level of administrations" in the retail sector.
High business rates, they said, are also contributing to rising vacancies.
The report also said Northern Ireland does not have enough top quality office space which is essential to attract foreign direct investment (FDI) from overseas.
'Unsustainable'
Lisney managing director, Declan Flynn, said: "In retail, business rates remain a major issue. We have a situation where the level of business rates levied on shops is completely decoupled from the commercial realities of rents and the trading performance of the retailer.
"This is unsustainable and will continue to be a significant factor in administrations and rising vacancies, unless addressed."
The report also commented on "the problems Northern Ireland faces attracting foreign direct investment".
It said the availability in Belfast of Grade A office space, seen as essential to attract quality FDI, is declining further from an already low level.
There is currently no development of Grade A office space in the pipeline.
Headline rents in Belfast remain at £12 per sq ft, which Lisney said compares very favourably with other cities in the UK and Ireland.
Turning to industrial property, the survey said vacancy rates are increasing and now stand at 16%, which is in line with the UK average.
Mr Flynn added: "We still haven't seen a decision on a reduction in corporation tax. Designating Northern Ireland as an enterprise zone is another potential option to boost the economy and help make us more competitive.
"In the areas of GB in which enterprise zones exist, they provide a streamlined planning system, tax incentives and business rates relief.
"What is clear is that if nothing is done, the issues identified in this research will become even more acute, and Northern Ireland will continue to lose major potential occupiers to the Republic of Ireland other locations."