Sir Christopher Kelly holds ethics talks at Stormont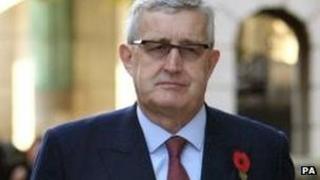 The chairman of a Westminster committee examining political ethics is visiting Stormont to get the views of Northern Ireland Assembly members.
Sir Christopher Kelly, who is chairman of the Committee on Standards in Public Life, said Northern Ireland had made some good progress in recent years.
Sir Christopher said he welcomed the end of double-jobbing, where politicians hold multiple seats in Westminster, Stormont and councils.
He said he wanted to hear "what helps drive high standards in public life in Northern Ireland and what more can be done to build public confidence".
The committee was established in 1994, initially to deal with concerns about unethical conduct amongst MPs. It has a UK-wide remit and it is currently carrying out a review of ethics and best practice in political life.
Sir Christopher told the BBC he would be "in listening mode" during his visit to Stormont on Monday.
"Since the committee was established under Lord Nolan, a lot of regulators have been established, there is much more transparency in public life as a result of the Freedom of Information Act," he said.
"What my committee is involved at the moment is standing back and taking stock to see what we have learned and what does and doesn't work.
"We are looking at different contexts, and of course the context is different in Northern Ireland than it is other parts of the country, not least because while politics is partisan everywhere, it is more partisan here.
"In the Westminster parliament, there is an individual whose job it is to investigate the facts as to whether a code has been breached, then the prime minister passes judgement.
"As I understand it, here you move straight to an assembly vote."
Sir Christopher said it was important to have codes of conduct.
"People think they know what integrity and truthfulness mean, and in one sense they do, but if you then ask them to apply it to particular circumstances, you then find that people quite reasonably differ about what it requires in one particular situation or another," he said.
"This is why, as well as principles, you need codes elaborating what a principle means in a particular circumstance."