Two fatal road crashes in Coalisland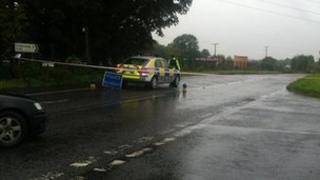 A 39-year-old lorry driver has been killed in a crash near Coalisland in County Tyrone.
Two lorries were in collision at Ballynakilly Road at about 09:30 BST on Monday. The driver of the other lorry is being treated in hospital.
It was the second fatal accident in the area in less than 24 hours.
Robin Steenson, 71, from Cookstown, died when his motorcycle was involved in a collision on the M1.
The Reverend Isaac Thompson knew Mr Steenson for 18 years.
He said: "He was not only a colleague as an undertaker, but he also was a neighbour and a friend."
The accident happened near the junction for Coalisland at about 17:15 BST on Sunday.
It is understood Mr Steenson was travelling on the country-bound lane when his vehicle struck the motorway's central reservation.
Police have appealed for anyone who witnessed either collision to contact them.