Met Offfice warning as winds and rain set to lash NI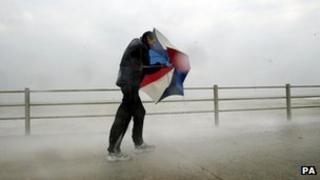 The dry start to autumn is due to end, with strong winds and heavy rainfall expected in Northern Ireland.
A Met Office amber warning - advising people to be prepared for severe weather - is in place for Monday and Tuesday.
There are predictions of strong winds, which could be severe in places, especially along the east coast.
The rain could cause flooding, especially over Antrim and Down.
A number of roads in County Antrim were affected by surface water on Monday evening.
The Cloughwater Road in the Ballymena area has been closed from its junction with the Lisnacrogher Road to its junction with the Dunbought Road.
The Roads Service said this was due to flooding, as a river has burst its banks. It is expected that the road will remain closed overnight.
BBC weather presenter Barra Best said: "We have an amber alert in force for Monday and Tuesday and that means to be prepared, in this case, for heavy and persistent rain.
"We're expecting up to 60mm or two and a half inches of rain.
"The amber warning extends into Tuesday as the area of low pressure responsible hovers right over us.
"But the good news is, it'll improve from the middle of the week."
The Rivers Agency in Northern Ireland said it had placed its staff on flooding alert in response to the Met Office warning.
It said agency engineers and technical officers had been monitoring river levels, ensuring drainage grilles were clear and checking sandbag stores.
"The Met Office have issued an amber warning of rain until 6am tomorrow morning with as much as 100mm expected to fall on the highest parts of north Antrim," the agency's director of operations Philip Mehaffey said.
"With these very high predicted rainfalls for the higher ground we cannot rule out some river flooding and so we are doing everything we can to mitigate the risk."
Mr Mehaffey said the Flooding Incident Line on 0300 2000 100 was "available 24 hours a day".
Roads Minister Alex Attwood has asked motorists to be "vigilant".
The Republic of Ireland's Met Eireann has also issued a warning for north and east Leinster.
It said between 25 and 40 millimetres of rain are likely to accumulate during Monday.
Winds of up to 60mph are expected to hit the north of England and south of Scotland, while other areas could see 80mm of rain before Monday evening, forecasters say.
The Environment Agency has issued about two dozen flood alerts, mainly in south-west England.
Met Office amber warnings are also in place for Devon, Cornwall, Dorset and Hampshire.
Yellow warnings - indicating that people should be aware - are in place for much of the rest of the UK.
The Met Office said there was going to be a big change in the weather compared to the first part of September.
Parts of Britain have seen temperatures in the mid-20s during September, a welcome break from the rain and wind which dogged much of July and August.