Knockevin Special School damaged in vandal attack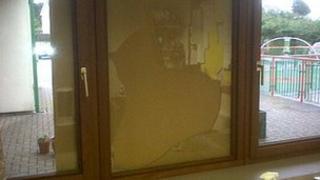 The principal of a County Down special school attacked by vandals at the weekend has said the damage done to it was "horrendous".
The damage at Knockevin Special School at Racecourse Hill, Downpatrick, has been estimated at £30,000.
A 23-year-old man has been arrested on suspicion of burglary.
Principal Ann Cooper said six buses had been damaged, doors of three rooms in the school kicked in and the rooms extensively damaged.
"There were six buses trashed - windows smashed, the radios taken out, they had obviously tried to hotwire the buses," she said.
"The medical room itself was just absolutely horrendous and that is the core service to our pupils, so we couldn't have operated out of that room.
"Obviously somebody had gone down the corridors and they went into the physiotherapy room, another key service that we provide for our pupils.
"Just to go through them and to see the damage that they did to our classroom and our physio room was just awful for the staff and myself to see."
Ms Cooper said staff arrived at about 09:00 BST on Sunday to start the clean-up and left at about 15:00 BST.
She said although maintenance work would have to be carried out on Monday, the school would be open.
Knockevin provides schooling for 89 pupils aged from three years to 19 years old.
Colin McGrath, SDLP, said the people who caused the damage were "spineless, heartless individuals".
"This attack on a special school is a disgrace," he said.
"Educational centres are there to provide a valuable service in our town and to have it attacked in such a manner is disgusting."
In a statement, the South Eastern Education and Library Board said that arrangements had been put in place to ensure there was no disruption to pupil transport to the school.