Canadian searches for Irish girl who stole his heart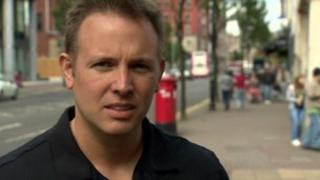 It was a brief encounter a year ago, but for a young Canadian, the memory lived in his heart.
Now Sandy Crocker, 34, a dentist from Kelowna, British Columbia, has travelled thousands of miles back to Ireland to find a red haired, freckled girl he saw once in a café in County Clare.
His romantic quest has taken the American and Canadian press by storm.
"I was on a family holiday last year, and it was my second last day before leaving," he said.
"I had a brief encounter with the most beautiful Irish girl you could ever imagine."
But because he did not want to be too forward, Sandy merely exchanged a few words with her in a café in Ennistymon and they parted.
"I watched her. She was one of those people who seemed the most genuine caring person you'd ever meet. I stood up and asked for directions and asked for the time - if I had just paid her a compliment, told her she was amazing, I could have put this to rest."
Later, other men told him that he'd fallen in love with a piece of Ireland.
The problem was that although he met many beautiful Canadian girls back home, none was quite the same.
"It became a joke," he said.
"I'd meet a girl and 'She's not Ennistymon', my friends would joke."
Sandy met an Irish couple in Canada who made him think twice about returning to meet the red-haired beauty again. It was not such a mad idea and people in Ireland would understand and want to help, they said.
So, a year later, he is back in Ireland, travelling around, enjoying the scenery and hoping that he might just run into her.
He went back to the café and he put a little notice in the newspaper, the Clare People asking about the girl. But so far, he has not found her ... Instead, he has found himself in the middle of a media flurry.
"If I met her now I would laugh at how crazy it has been," he said.
"It has gone all across Ireland and it's in America and Canada. It is gathering international attention. There are bookmakers putting odds on whether I'll meet her and marry her or whether she is already married.
"I don't even know her name ... That is the joy and the whimsical nature of it."
Sandy is surprised at how his search for love has tugged the heartstrings of people across the globe - he was interviewed by ABC News and has appeared on news websites like the Huffington Post.
But even if he never finds his ideal Irish girl, he is glad that at least he tried.
"I threw it out there," he said.
"Most people would just laugh and forget it. But I'll go home and in 50 years' time, I will never regret the couple of weeks I spent running around Ireland, being silly trying to find some girl I thought was beautiful."