Marion Millican murder: Fred McClenaghan jailed for at least 16 years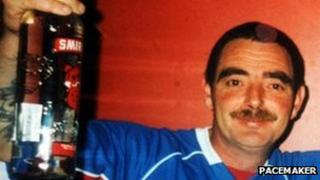 A man who shot dead his ex-lover with an antique shotgun will serve at least 16 years of his life sentence.
Fred McClenaghan, 49, was found guilty of murdering Marion Millican in the Portstewart launderette where she worked in March 2011.
The judge said an aggravating factor was that he planned the shooting using an untraceable illegal shotgun obtained at least two weeks before the murder.
She said there was evidence McClenaghan had attacked her in the past.
Strangle
Judge Corinne Philpott said he had once broken one of her teeth, while an attempt to strangle Mrs Millican had been the "last straw" in their relationship.
Although the mother-of-four ended the relationship, and they were apart for about three months, McClenaghan "deliberately sought her out" on the day of the shooting, the judge said.
The 51-year-old suffered a shotgun wound to her chest and died at the scene.
McClenaghan, from Broad Street in Magherafelt, had claimed that he accidentally shot her while attempting to kill himself in front of her.
The Antrim Crown Court judge, sitting in Belfast, told McClenaghan the jury had rejected his claims both of diminished responsibility and that the shooting was an accident.
She said they had convicted him of "deliberate murder".
One of Mrs Millican's daughters said the family felt let down by the 16-year minimum sentence.
"As a family we feel the sentence was very lenient, especially for such a violent crime," said Suzanne Davis.
Accompanied by a tearful Pamela Henry, a friend and colleague of Mrs Millican's who was at work that day, Mrs Davis described McClenaghan as "a monster" and an "evil, evil man".
Speaking of the family's loss, she said: 'It's indescribable - our lives have been shattered, we will never get over the loss of my mum.
"She was the glue that kept us together and now she is not here.
"It's the simple things in life that we miss about her as much as the milestones, every little insignificant thing and she's not here."