Magilligan Prison - Finlay Spratt campaigns to keep jail open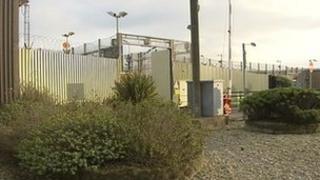 A campaign to prevent the closure of Northern Ireland's second largest jail is being launched by the chairman of the Prison Officers' Association (POA).
Finlay Spratt said Magilligan Prison, near Londonderry, is important for inmates and staff in the north west.
The Prison Service wants to replace it with a new jail closer to Belfast.
Mr Spratt has organised a petition at the prison gates and is attempting to secure 20,000 signatures before taking the campaign to Stormont.
Magilligan Prison opened to inmates 40 years ago and more than 400 people currently work at the jail.
It is a medium to low security prison which holds qualifying male inmates with six years or fewer to serve.
The DUP has previously warned that the closure could have serious economic consequences for nearby towns like Limavady.
In April, Stormont's Justice Minister, David Ford, defended plans to close Magilligan, calling it "a relic of the 1970s H-blocks".
Mr Ford also argued that the majority of prisoners were from the greater Belfast area and their families found the long journey difficult.