Gaming industry 'tax breaks needed' to become global player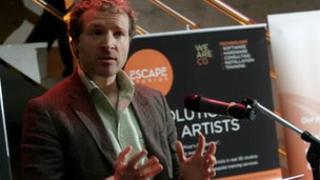 With the announcement that computer games company Electronic Arts (EA) is creating 300 new jobs in Galway, Ireland will be hoping to further cement a reputation as a "gaming country".
It's not alone. Countries around the world are trying to follow in the footsteps of the US and Japan as serious players in the industry.
So what does a country need to do to achieve this?
Dr Richard Wilson, CEO of TIGA, the trade association representing the UK gaming industry, said creating a "favourable tax system" was the key priority.
"TIGA has spent the last four years campaigning for this, and thankfully, the coalition government announced in March that it would introduce this tax relief," he said.
Although the exact specifications are still being discussed, Dr Wilson said they hoped this would involve up to 30% off production costs.
'Infrastructure and talent'
This, he said, would set the UK apart from many other competitors.
"The next thing would be to improve access to finance. We've suggested that a Creative Content Fund be set up for UK companies, to make loans of up to £150,000 available and provide them with working capital."
The announcement in Galway appears to have been down to similar steps in the Republic of Ireland.
EA's Peter Moore said Galway had beaten bids from other cities in the UK, Europe and America, because of its "mix of technology infrastructure and talent availability, combined with a pro-business environment".
The Irish Republic has been on a drive to improve its broadband access, international visibility, and critically, creating an enticing corporation tax rate.
Other major gaming corporations, such as Activision, have already invested in the Republic.
Dublin-based company Havok has played a part in some of the biggest gaming releases in recent years, including Battlefield 3, The Elder Scrolls V: Skyrim and Half-Life 2.
Asked if the UK is currently doing enough to keep up with other countries, Dr Wilson said it was in a much better position now than a year ago.
"We have all the ingredients in place now, whereby we are going to be able to compete with our more seasoned competitors. We're in an infinitely stronger position," he said.
'Highly skilled'
One such ingredient is the need for skilled workers for the jobs.
A prototype programme at Abertay University is one of a number of such courses around the UK that are training students for the industry.
"Gaming is a highly skilled business," said Dr Wilson.
"We're lucky to have some of the most skilled workers in the world here, but it sometimes means countries like Canada will poach them."
Canada is currently ranked as the third largest producer of video games, benefiting heavily from government incentives for companies.
In Quebec, for example, government subsidies meet 37.5% of the industry's costs.
So why are nations vying to reach the top of this industry in particular?
Dr Wilson said the UK economy was "suffering from disappointing growth, and policy makers need to find those industries with growth potential".
"By investing in us, they are not simply helping video game companies - they're also helping the economy," he said.
The second reason, he added, was the sheer extent of the growth of the global games industry.
"The gaming sector is expected to be worth more than $80bn by 2014. If the UK can win a larger share of that market, it benefits enormously. It means more jobs, a better economy and overall an improved way of life."