NI Executive agrees on Education and Skills Authority legislation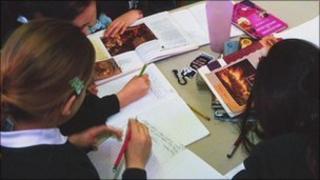 The Stormont Executive has agreed on legislation to replace Northern Ireland's five education boards with a single authority.
The Education and Skills Authority was supposed to have been set up in January 2010 as part of the Review of Public Administration, but was delayed due to political wrangling.
Education Minister John O'Dowd said the bill would be brought before the assembly and the Stormont education committee in the coming weeks.
Mr O'Dowd said the Education Bill was a "significant step forward in the strategic planning and delivery of our education system".
He added: "The creation of a single authority, able to plan, deliver, support and challenge schools and other providers, will also ensure we are better able to enhance the role played by education in developing our economy.
"I wish to pay tribute today to staff at the Education and Library Boards, the Council for Catholic Maintained Schools, the Youth Council and the Staff Commission for the Education and Library Boards.
"Over the course of the past 40 years they have provided an invaluable service to schools and I recognise the hard work and commitment of staff in all these organisations.
"This has been particularly true in recent years as many posts have gone unfilled in preparation for ESA with the remaining staff showing their professionalism in ensuring the continued delivery of services."