1913 Ulster Proclamation - sole surviving copy in new Belfast exhibition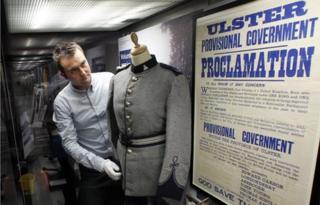 A new exhibition exploring the Home Rule crisis and the Ulster Covenant has been unveiled at the Ulster Museum.
The display includes the only known copy of the 1913 Ulster Proclamation declaring a Provisional Government.
The poster was bought by the Ulster Museum for £18,750.
The exhibition also features silverware, glassware, photographs, letters, firearms, and magazines and postcards - some of which are on display for the first time.
Many of these objects are directly connected to key events and some of the leading personalities from the period.
The pen and blotting paper used by unionist leader, Sir Edward Carson, when he signed the Covenant are part of the exhibition.
Other items on display include artefacts connected to the Home Rule campaigner, John Redmond, the UVF gun-runner, Colonel Fred Crawford, and the Easter Rising leader, James Connolly.
The exhibition, The Ulster Crisis: Irish Home Rule and the Ulster Covenant, features 150 items.
It opens to the public on Friday and entry is free.