Residents' debt fears over vesting in north Belfast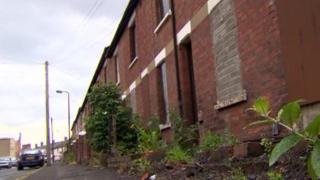 Residents in north Belfast fear they could be left with huge debts if the authorities force them to sell their homes to re-develop the area.
They voiced their concerns after it emerged this had happened to about 25 householders in the Village area of south Belfast.
After those properties were compulsorily purchased - or vested - and then demolished, the compensation residents received was not enough to pay for what was left on their mortgage.
So they will be paying for years for homes that no longer exist.
The government has the power to vest; they pay the market value for the property at the time they purchase the home.
Under the current rules governing vesting, it could happen anywhere in Northern Ireland.
BBC NI business correspondent Kevin Magee said about half of those affected in the Village area were landlords, but the others were home owners.
"These are people who bought their homes before property prices crashed," he explained.
"When prices fell, like many others, they moved into negative equity.
"But unlike other people who just stay put when that happens, they were forced to sell their houses through compulsory purchase.
"But they were only given the market rate for them, not the higher price that they had previously paid.
"The sale was forced upon them. They had no choice."
There is a redevelopment plan for some 230 houses in four streets in the New Lodge area, known as the Upper Long Streets.
Some homeowners who are in negative equity there are very worried about what could happen.
One woman said: "I bought the house four and a half years ago because I wanted to better myself and get myself on the property ladder. I paid £150,000 for the house.
"Last year when we got the house valued it was only worth £70,000. I'm just worrying about when the vesting takes place when the property is due to be demolished.
"What way that will turn out for my future, what debt I'll have hanging over my head? My life's put on hold, worrying, there's a lot of stress, I can't sleep at night."
One man told the BBC: "I bought this house six years ago off my mother. It was the perfect opportunity for myself and my wife to get on the property ladder.
"We were first time buyers. By buying it off my mother it meant we didn't need a deposit. When they do go to vesting, we are doing to be in debt.
"I bought the house for £105,000, the value of the house is going to be £65,000 or £70,000. You are talking in the region of £30,000 that we are going to be in debt."
On hold
Another woman said: "We moved over from England, and we wanted to move onto the property market and this was the ideal opportunity.
"A four-bedroomed house, nice big house for us that would do us for the next 24 years or even more. But we're not being given that chance because of the redevelopment. End of story."
Until this issue is dealt with by the lands tribunal, the redevelopment and vesting in the New Lodge has been put on hold.
The case is due to be reviewed on 28 September, but it will be some time after that before it goes to a full hearing.
While there is some sympathy for the homeowners in negative equity in the New Lodge, there is also frustration over what some see as yet another delay in the redevelopment of the area.
Liam Wiggins, chairman of the New Lodge Housing Forum, said they had been "fighting for redevelopment for a long, long time".
"It happens everywhere. You can be sympathetic but the vast majority of the people have fought for redevelopment now for 13 or 14 years."
The Housing Executive have said they are restrained by the rule of law; that they can only pay the market rate for a property at the time of vesting.
The lands tribunal hearing will take evidence from the Department of Social Development and the Department of Finance and Personnel.
There will also be a submission from the Attorney General who is looking at the human rights issues involved.
Our correspondent Kevin Magee added: "That is what this could turn on.
"To what degree have these people's rights been violated by being forced to sell for less than they paid?
"It's a test case thrown up by the exceptional economic times we live in."