Nelson McCausland bans 'all you can drink' promotions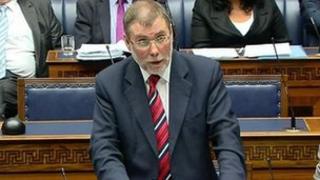 The Social Development Minister Nelson McCausland has decided to ban promotions offering unlimited amounts of alcohol for a fixed price.
The decision follows a public consultation which showed support for the move.
A wide range of agencies and other groups responded.
The ban is expected to come into force in January 2013 and will outlaw promotions such as "all you can drink for £20".
Colin Neill, chief executive of Pubs of Ulster, said: "Pubs of Ulster welcomes the announcement to ban 'all you can drink' promotions as it marks another significant step forward in bringing an end to irresponsible practices within the industry.
"Ensuring that alcohol is responsibly promoted and sold has always been a high priority for Pubs of Ulster and we have been at the forefront of calls for legislative change on all forms of irresponsible promotions for some time.
"Whilst 'all you can drink' promotions are rare and the majority of licensees continually demonstrate best practice in this area, we do recognise that there are some premises that choose to offer such promotions."
A proposal for the regulation to control the price at which a retailer may offer bulk purchases, such as three cases of beer or two/three bottles of wine at a reduced price, was also strongly supported in the public consultation.
The Social Development committee expressed strong concerns over restricting discounts on these bulk purchases.
After consideration, the minister decided not to proceed with the introduction of this regulation.
The summary of responses to the consultation has been published on the department's website.
The consultation was carried out from 12 March to 7 May 2012.