Michaela McAreavey's husband tells of her "unwavering faith"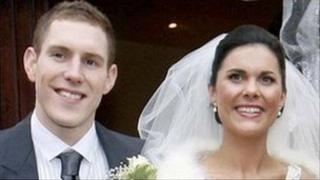 The husband of murdered Northern Ireland school teacher Michaela McAreavey has spoken about his wife's "unwavering faith".
John McAreavey made his comments in a DVD released by the Catholic Church on the role of lay people.
He is one of a number of people who have shared their personal experiences of faith.
Michaela McAreavey was murdered in her hotel room on the island of Mauritius in January 2011.
Five hotel workers were arrested over the murder of Mrs McAreavey, the daughter of Mickey Harte, one of Ireland's leading sports figures.
Floor supervisor Sandip Moneea, 43, and cleaner Avinash Treebhoowoon, 32, were later charged with her murder.
They were found not guilty in July after a six-week trial at the Mauritian Supreme Court in the capital city of Port Louis.
"I miss her a lot you know, God I miss her but I just have to try to accept that I have Michaela in a different way now," he said.
God's plan
"Our relationship has changed but I still have her. I always kind of felt that God for me was always there so Michaela had this unwavering faith.
"She forever talked about God's plan, even in football.
"If I'd had a bad day she would say, 'just have patience, it will all work out for you, there is a wider picture there', so there was this plan and unfortunately it's not the way I wanted it to be, but I knew that Michaela believed in it so it gave me the strength to believe in that."
The role of lay people in the Catholic Church is part of a project launched by the Armagh Vocations Team to address the diverse and different ways parishioners in their local parishes, according to their calling in life, can assist priests.
"We are looking at the concept of 'vocation" in the broadest sense of the word," said Father Peter McAnenly, director of vocations in the Archdiocese of Armagh.
"So often, the word vocation is associated only with priesthood, but the church is changing rapidly and now lay people are being invited to play a much greater role in the life of the church.
"This initiative outlines some of the roles and how the entire church congregation will benefit."
The DVD will be distributed to all parishes, schools and pastoral councils in the Archdiocese.
Entitled 'A Calling For Everyone', it features personal reflections of people from the Archdiocese of Armagh.
Cardinal Sean Brady said: "The church needs lay people more involved in the life of the church than ever before. We are extending an open-invitation to people to become more involved and active in the running of their parishes and churches and we will see a lot more of this in the future."