Special adviser bill 'may breach European Convention on Human Rights'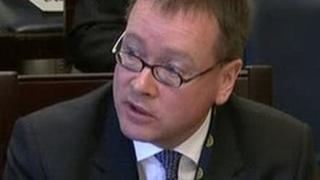 Attorney General John Larkin has suggested elements of proposed legislation by TUV leader Jim Allister may run counter to the European Convention on Human Rights.
Mr Allister's private member's bill aims to ban those convicted of an offence carrying a sentence of five years or more from holding the post of special adviser to a Stormont minister.
Mr Larkin told the Stormont finance committee the retrospective nature of the bill might fall foul of the convention.
He said article seven prohibited the increase of punishments available at the time an offence was committed, and questioned whether a disqualification might constitute such an increase.
Mr Larkin said retrospective measures which have survived legal challenge involved questions of public safety, such as those in relation to sex offenders working with children.
He said Mr Allister's bill was based in large part on members of the public "recoiling from the presence of certain people with serious past convictions being in important posts".
For that reason, Mr Larkin said, there were potential dangers related to the competency of clauses two and three of Mr Allister's bill.
MLAs spent a considerable time asking Mr Larkin about the likelihood of a legal challenge to either the UK Supreme Court or the European Court in Strasbourg.
Mr Allister introduced his private members bill after the appointment by Sinn Fein culture minister Caral Ni Chuilin of Mary McArdle.
Ms McArdle's appointment as special adviser stirred controversy in 2011 when it was revealed she had been convicted for her part in the IRA murder of Mary Travers in 1984.