Parades Commission defers Orange march decision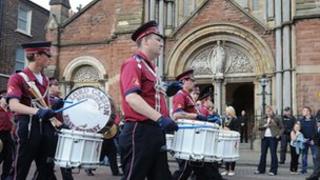 The Parades Commission has deferred its decision on an Orange Order parade in Belfast to allow talks to take place.
The march on 29 September is part of events marking 100 years since the signing of the Ulster Covenant.
A Parades Commission spokesman said it had been "heartened by the level of local contact which has taken place".
He said the commission would wait for a number of days "in light of this and the prospect that there may be opportunity for further local contact".
The Orange Order said on Monday its decision to play only hymns when passing St Patrick's Catholic Church followed talks with clergy and parishioners, and community leaders in north Belfast.
However, it did not speak directly to the Carrick Hill Concerned Residents Association.
Meanwhile, the Orange Order has given Belfast traders assurances that the Saturday afternoon parade will have left the city centre by 13:30 BST.
Retail representatives told the Parades Commission 20 businesses lost out on a total of £114,000 when trouble flared during a Royal Black Institution march on 25 August.
They said 900 firms across the city would have lost several million pounds.
Figures from the Belfast Chamber of Trade and Commerce and Belfast City Centre Management outlined their concerns on Wednesday to the Parades Commission, which makes determinations on contentious parades in Northern Ireland.
The commission was told that that 25% of weekly trading takes place on Saturdays, with the core shopping time between 13:00 and 17:00 BST.
The organisations called for timing restrictions to be put on Saturday parades in the city centre, requiring them to be finished by 12:00 BST.
Paul McMahon of Belfast Chamber of Trade and Commerce described the meeting as "positive".
"Some commissioners seemed shocked at the scale of the lost income," he said.
"It is our hope that this information will help the Parades Commission when considering all future applications for parades in Belfast city centre on Saturdays.
"In the current economic climate our retailers simply cannot afford to suffer in this way.
"We are not calling for parades to be stopped; we are calling for them to be timed to help, as opposed to damage retail businesses and jobs."
The delegation said managing the complimentary timing of parades and retail trading on the Twelfth of July had helped to improve business, with trading this year up 20% on 2011.