Smithwick Tribunal hears significant new evidence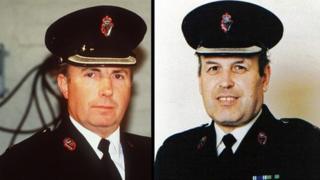 The Smithwick Tribunal has heard details of significant new intelligence relating to alleged garda collusion in the murder of two RUC officers.
PSNI Assistant Chief Constable Drew Harris gave details of 12 pieces of new intelligence to the tribunal in a closed session.
Tribunal chairman Judge Peter Smitwick agreed to hear the evidence in private due to its "sensitive nature".
He described it as "live present day intelligence".
'Laissez-faire attitude'
It comes after the tribunal in July was presented with a summary of five intelligence reports that had previously been held by the PSNI.
The PSNI was accused on Wednesday of having a "laissez-faire attitude" in its submission of intelligence to the tribunal.
"The tribunal has been put in an impossible position by the PSNI and the British intelligences services," said Jim O'Callaghan, counsel for former Det Sgt Owen Corrigan.
"The tribunal cannot be prolonged indefinitely by the PSNI coming in at the eleventh hour saying we want you to have a look at this intelligence."
Owen Corrigan is one of three former gardai under the spotlight at the tribunal; he denies all allegations of collusion.
The development on Wednesday also drew criticism from the legal representatives of the garda commissioner.
"Seven years after the tribunal was established we don't know when each and every piece of PSNI intelligence was received," said Diarmaid McGuinness SC, for the garda commissioner.
"From the point of view of Mr Harris' evidence, we don't know if it will account for the PSNI's previous silence, the five pieces of evidence we heard of in July and now 12 pieces of additional intelligence."
Counsel for the tribunal, Mary Laverty SC, told Judge Peter Smithwick that suggestions the PSNI was "behaving improperly" was "not quite correct".
'Camera'
Later on Wednesday, the tribunal heard evidence from victims campaigner William Frazer.
The founding member of the group, Families Acting for Innocent Relatives, refuted claims previously made at the tribunal that he was a member of the loyalist group, the Red Hand Commando.
During evidence to the tribunal, Mr Corrigan had also described Mr Frazer as "a leader of his own little army".
Mr Frazer said that was not true and later wished Judge Smithwick well in trying to bring the tribunal to a conclusion.
"I believe the problem is that the British government is not putting all the facts in front of you," he said.
RUC officers Chief Superintendent Harry Breen and Superintendent Bob Buchanan were killed on the Edenappa Road in south Armagh just minutes after leaving a meeting in Dundalk Garda Station.
In his evidence, Mr Frazer claimed the British army "had a camera on the Edenappa Road all the time".
"Where were the security forces?" said Mr Frazer.
"Why did nothing happen that day?"
The tribunal has adjourned until next week.