Spence tragedy: Daughter's brave rescue attempt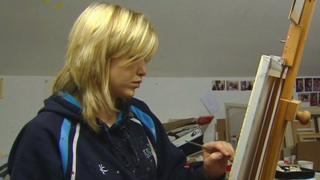 Health Minister Edwin Poots, a family friend of the Spence family, has told of the heroic efforts made to save the father and two sons from a slurry tank.
Noel Spence and his two sons, Nevin and Graham, were overcome by fumes at their County Down farm on Saturday.
The three men died but Graham and Nevin's sister, Emma Rice, was rescued.
In an emotional interview on BBC's Nolan Show, Mr Poots said Emma had twice tried to save her family members before she also was overcome by fumes.
The minister described her actions as "incredibly brave".
He explained that Graham Spence had entered the tank in a bid to rescue a dog which had fallen in.
Succumbed
He said Noel Spence was overcome as he tried to save his son.
Nevin Spence, an Ulster rugby player, then attempted to drag the pair from the slurry before he, too, succumbed.
Mr Poots said Emma managed to pull her father onto a ladder.
A neighbour, alerted by her cries for help, brought him to ground level. Efforts to resuscitate him failed.
She re-entered the tank in a bid to help her brothers but she too, was overcome and was brought out by the neighbour and rushed to hospital
"Emma risked her own life to try and save her father and brothers. Physically I don't know how she managed it because her dad is a big man," Mr Poots said.
"With the weight of the slurry and so on, she needed to muster unbelievable strength to get him pulled up.
"And then she went back in again, risking her life a second time. It is maybe some comfort to the family she didn't lose her life. She was incredibly brave."