Irish councils clash over re-naming of Boyne bridge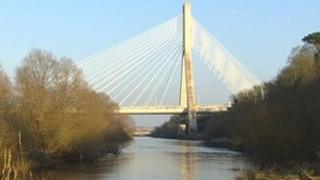 Former Irish president Mary McAleese's role in the peace process is set to initiate a second 'battle of the Boyne' between two councils.
The mayor of Drogheda, County Louth, said he will boycott a ceremony to re-name the M1 motorway Boyne Bridge in honour of Mrs McAleese's peace moves.
The bridge crosses over the boundary between Counties Louth and Meath.
Mr Bell said Meath Council had decided to re-name the impressive 350 metre bridge without consulting his council.
Irish Prime Minister Enda Kenny has already backed the move to commemorate Mary McAleese bridge-building role between communities in Northern Ireland.
Meath Council had proposed 16 October as a provisional date for the ceremony.
However, Mr Bell, a Labour councillor, said there had been no public consultation on the re-naming of the bridge and he would not attend the ceremony.
Meath Council said it would work with their Louth opposite numbers to resolve the matter.