John O'Dowd breached code for ministerial appointments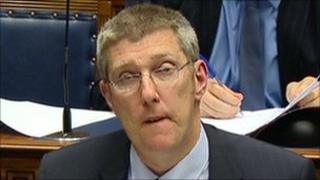 A report has found that Education Minister John O'Dowd breached the code for ministerial appointments.
It relates to appointments to the board of the General Teaching Council.
The commissioner for public appointments, who examined the process, said the code was not complied with "to a substantial degree."
He found a total of seven breaches. These included no record of the reasons for Mr O'Dowd's selection of three applicants from a shortlist of five.
Another failing concerned the information provided to Mr O'Dowd by the panel that interviewed the applicants.
Six people were interviewed and five of them were deemed suitable for appointment.
However, the commissioner said the applicant summary drawn up for Mr O'Dowd was "limited in content".
As well as breaches of the code, the report said there were five further shortcomings in what is considered best practice.
The commissioner's report said the department should give "urgent consideration" to the findings.
In a statement, the Department of Education said: "The education minister makes all public appointments on merit, ensuring a diverse range of skills and backgrounds on all the public bodies he appoints to.
"A response will be issued to the commissioner in the coming days, dealing with the points raised and providing information on this appointments process. The minister trusts the report will be updated in light of this information.
"The department will ensure any learnings are incorporated in future appointments processes. The minister is committed to ensuring appointments are made in an open and transparent manner."