'Prophetic' Covenant novel in the spotlight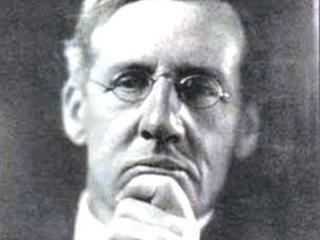 Did a controversial Belfast novelist predict the political fallout from the Ulster Covenant and the loyalist gun running of 1914?
That is the question being asked of Canon James Owen Hannay who was a Church of Ireland minister and a best selling writer.
Hannay's book The Red Hand Of Ulster, which was published just months before the Ulster Covenant was signed in September 1912, is still regarded as one of the most remarkable accounts of this period of Irish history.
He wrote about gun running, loyalist meetings and a short-lived uprising on the streets of Belfast.
Published a century ago as the Home Rule crisis took hold, Hannay's work has been described by the historian Roy Foster as 'strangely prophetic'.
Satirising
His book and his career are the subject of a BBC Radio Ulster documentary that marks the centenary of the publication of Hannay's novel about political tensions in Belfast in 1912.
The book tells the story of unionist opposition to Home Rule through the eyes of a fictional peer Lord Kilmore who unwittingly becomes involved in a conspiracy of loyalist rallies and the smuggling of guns.
The Anglican clergyman, who would become famous world wide, was born in 1865 and spent most of his ministry in the County Mayo town of Westport.
He wrote numerous novels under the pseudonym of George A Birmingham and had a unique popular writing style often satirising the behaviour of politicians and fellow clergymen.
He came from a long line of clerics as his father was an Anglican minister in Belfast and his grandfather was a rector in Moira, County Down.
Educated in Belfast and England he began church life in Delgany in County Wicklow and moved to Westport in 1892.
His work and views often attracted controversy. Although he came from a unionist background he was attracted to the ideals of Irish nationalism and he embraced the Irish language.
Through his involvement with the Gaelic League he would become friends with Douglas Hyde who would later become the first Irish president.
Rioting
Hannay's work attracted critics and fans in equal measure. His play General John Regan, which tells the story of an American arriving in a west of Ireland town, became a hit across the world.
He toured America with the production and became a regular columnist with British newspapers. When General John Regan was performed in Westport it provoked a major disturbance as locals believed Hannay was mocking them.
Seven hundred people rioted and 20 were arrested in the most violent riot in the history of Irish theatre.
Hannay, who died in 1950 in England, aged 85, was an industrious writer and penned dozens of novels. At one stage in his long career he was writing a novel a year.
Academic Norman Vance tells the BBC he regards Canon Hannay as one of Ireland's most important writers.
He said: "At one level he is an Irish PG Wodehouse with a wonderful gallery of beautiful girls and silly asses and bumbling peers."
Historian Eamon Phoenix says it is important the work of the Anglican cleric is recalled.
"He will be remembered as an Ulster voice in the world of WB Yeats, George Bernard Shaw and Lady Gregory," he said.
The documentary also hears from the canon's great grandson, Owen Hannay who is now a successful businessman in Dallas in the United States of America.
He describes his relative as a "great listener and revealer of the human spirit".
The Red Hand of Ulster is broadcast on BBC Radio Ulster on Sunday 23 September at 1.30pm. It is repeated on Thursday 27 September at 19.30.
You can follow Stephen Walker on Twitter @stepwalktv