Invest NI's 'Go For It' business programme resumes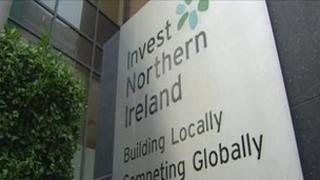 The 'Go For It' programme is starting up again after a year on pause.
It is run under the umbrella of Invest NI as part of its commitment to train people in running their own businesses.
Anyone with an idea is given focus and new skills with the aim of being able to turn their idea into a reality.
Invest NI outsourced the programme to Enterprise NI, who have run the schemes through their enterprise parks for 20 years.
But in September 2011 they had to re-apply for the contract and it was given to a group of business advisers, KPMG, and the Scottish-based Go Group.
Enterprise NI put in a legal challenge to that appointment, so 'Go For It' had to be put on hold until the dispute was resolved.
In the end a compromise was reached by Invest NI re-opening the tendering process in April, without admitting that they had been at fault the first time round.
Enterprise NI put in a new bid and it has now been announced that they have won the contract back again.
A total of £43,500 was raised from enterprise agencies by Enterprise NI in order to fight the legal battle with Invest NI.
The 32 enterprise agencies were asked for £1,500 each to help cover the legal fees last Autumn. Three of those agencies - Mallusk, Antrim, and Townsend - refused to pay and so have been excluded from delivering the 'Go For It' programme.
Enterprise agencies are billed as locally based not-for-profit companies set up to support small business development, but have contributed a large chunk of their finances to this legal battle over the last year.
Contribution
Tax payers have also had to pay tens of thousands of pounds to both Invest NI and Enterprise NI to cover their legal costs during the dispute.
However, the chief executive of Enterprise NI would not reveal the exact figure the public have had to contribute to cover the legal row.
Gordon Gough said the focus should be on the new 'Go For It' schemes.
"We are ready and willing to get the business start programme back up on the ground," he said.
"There are so many people out there with great business ideas, and 'Go For It' is a tried and tested brand so we look forward to getting it up and running again."
This last year has seen some of the toughest economic conditions, with unemployment reaching new highs, and throughout this period there has been no scheme to help people into self-employment, and support the small business infrastructure.
The new schemes should be operating out of Enterprise parks across Northern Ireland within weeks.
You can hear the full interview with Gordon Gough on the NI Business News podcast.