Spence family deaths: NI farming community 'reeling'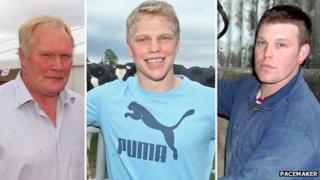 Deaths stun NI farming community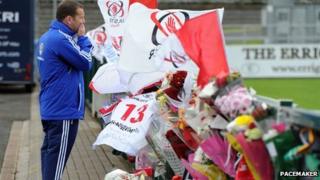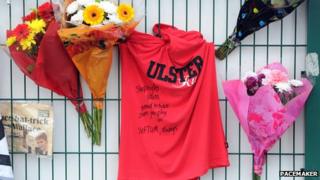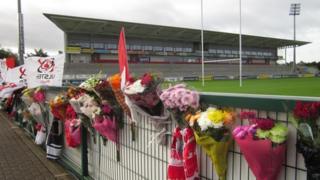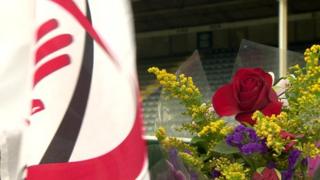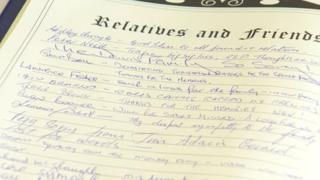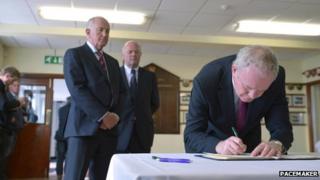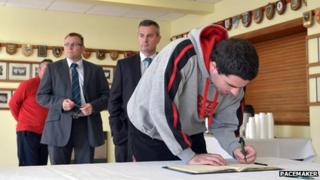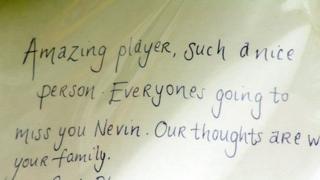 The deaths of three members of one family in a slurry tank accident has had a profound effect on the farming community, the Ulster Farmers' Union has said.
Ulster rugby player Nevin Spence, 22; his brother Graham, 30, and father Noel, 58, were overcome by slurry gas.
The accident happened on Saturday.
Twenty-three people have died in NI farming accidents since January 2011.
That figure was revealed by the Health and Safety Executive, which is trying to establish what happened at the Spence family farm at Drumlough Road, Hillsborough, County Down, on Saturday night.
The Spence family said the father and sons died trying to save each other.
Another member of the family, Emma Spence, was treated in hospital but later discharged.
Ulster Farmers' Union President Harry Sinclair said the industry was "reeling" from the incident.
"The scale of this incident has shocked us all. It has reopened a lot of wounds from other incidents," he said.
"It underlines the dangers of the farming business and enterprises. Many farmers today are questioning their approach to safety. It has had a profound effect and they want to do more."
Dermot Breen of the Health and Safety Executive (HSE) said it was following one particular line of inquiry.
"We have a number of interviews still to be conducted," he said.
"We'll be able to establish sufficient information really to give us a very clear idea of what happened."
In an earlier statement, the HSE said the three family members who entered an underground slurry tank died from the effects of exposure to slurry gases.
Nevin Spence was considered one of the up-and-coming stars of the Ulster team and had been widely regarded as a future Ireland international.
Fans began leaving scarves, flowers and other tributes at rugby's Ulster's east Belfast ground on Sunday.
The match between Zebre and Ulster that was due to be played on 21 September in Parma will be postponed as a mark of respect.
Ulster Rugby said a memorial service for Nevin Spence would be held at Ravenhill rugby ground in Belfast this Sunday at 15:00 BST.
A moment of silence is to be observed at all of the Pro12 matches being played this coming weekend.
Books of condolence have been opened at Ravenhill rugby ground and Ballynahinch rugby club for the three men.
Among those who paid their respects at Ravenhill was the Irish deputy prime minister Eamon Gilmore.
He took time out from a planned visit to greet the new Northern Ireland Secretary, Theresa Villiers, to travel to Belfast and sign a book of condolence.
In a statement, grieving relatives said that the families were trying very hard to come to terms with the loss.
"The three men were very close to each other in life, and that love was expressed in their final moments trying to help one another," the statement said.
"The family is being supported and comforted by other family members, friends and neighbours."
The book of condolence at Ravenhill will be available to sign until the end of the week and the ground will be open all week from 09:00 BST until 17:00 BST for anyone wishing to leave tributes.
Slurry is a mixture of cow manure and water which is used as a natural fertiliser on the fields. However, the gases generated as it decomposes in slurry tanks, can be lethal.
The most poisonous is hydrogen sulphide which is produced in large amounts in a slurry tank.
Prayers were said on Sunday for the family at Ballynahinch Baptist Church, which the Spences attended.
Rev Rodney Stout said the three men were all "incredibly gentle, decent, hard working, with a deep sense of family loyalty".
He said he visited the Spence home on Saturday night and the family were just beginning to come to terms with what had happened.
He said the tragedy would have a huge effect on a very tight-knit community.
Ulster Rugby's director David Humphreys said Nevin Spence "was a dream player to work with. He was the epitome of what we were looking for.
Career
"On days when nobody else wanted to come in and train, he was there leading from the front.
"All he wanted to do for the remainder of his career was to stay here, win trophies and be successful for Ulster."
Shane Logan, chief executive of Ulster Rugby, said Nevin was "an exceptional young man".
"A man who was killed in his prime aged 22 with an immense future in front of him and we know that because in his 22 years he was a model professional and a model individual," he said.
"A man of absolute integrity, complete determination, great humility, a fine team player and an all-round exceptional individual."
Nevin was a former student at Wallace High School in Lisburn.
In a statement, the school said: "It is with immense sadness that we learnt of the tragic accident which has taken the lives of three members of the Spence family.
"The loss of Nevin, our much respected former student and a role model for so many young rugby players, his brother, Graham, and his father Noel, is a devastating tragedy."